Photo by Getty Images 2018
Villanova
In the span of just three years from 2015-18, Jalen Brunson became one of the most accomplished players in Villanova history.
Prior to his freshman season, Brunson led USA Basketball to the U19 World Championship, earning Most Valuable Player honors. In his Villanova debut of 2015-16 he started 39 games and was a unanimous choice to the BIG EAST All-Freshman squad as the Wildcats earned the NCAA national championship. As a sophomore in 2016-17, Brunson earned first team All-BIG EAST honors while helping the Wildcats to BIG EAST regular season and tournament championships. Yet he saved his masterpiece season for his final one in college.
Brunson authored among the finest single seasons by a Wildcat in 2017-18, joining Paul Arizin as the only players in program history to be named National Player of the Year. As a team captain, Brunson helped direct Villanova to a program record 36 victories and the NCAA title. Along the way, he received the Bob Cousy Award as the nation's top point guard and the BIG EAST Player of the Year award. In addition, he became the first Wildcat since 1988 to be named a CoSIDA Academic All-American (second team) and was the BIG EAST Scholar Athlete Award winner.
You have to put Jalen Brunson up there as close to the ultimate Villanova basketball player and student as possible.
Jalen's been questioned at each level. He was a dominant high school player and a lot of people said, "he's not going to be able to dominate like that at the college level. He'll be a good player." And then he goes on to be National Player of the Year. And then, people said, "he's going to be too small in the NBA, and a lot of that stuff isn't going to work." His back down game and his craftiness around the basket and he's proving that it works.
He's always been underestimated in terms of his athleticism, his quickness, craftiness. There's no higher level now to go. He's proven that being an intelligent, skilled, craftsman at the game, works at every level.
— Jay Wright, Head Coach, Villanova University, HOF '21
Brunson's Jersey is Retired by Villanova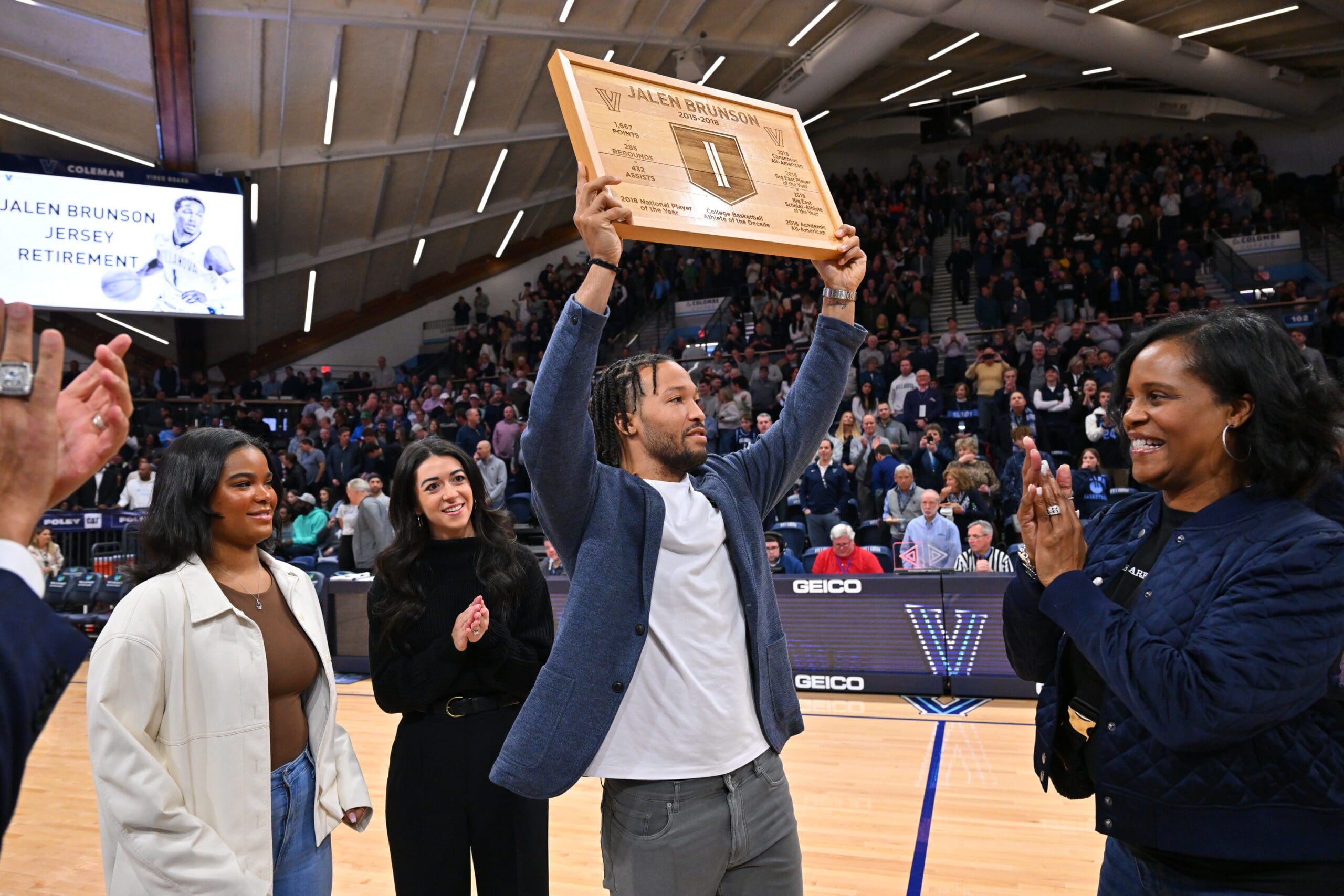 Photos Courtesy of Villanova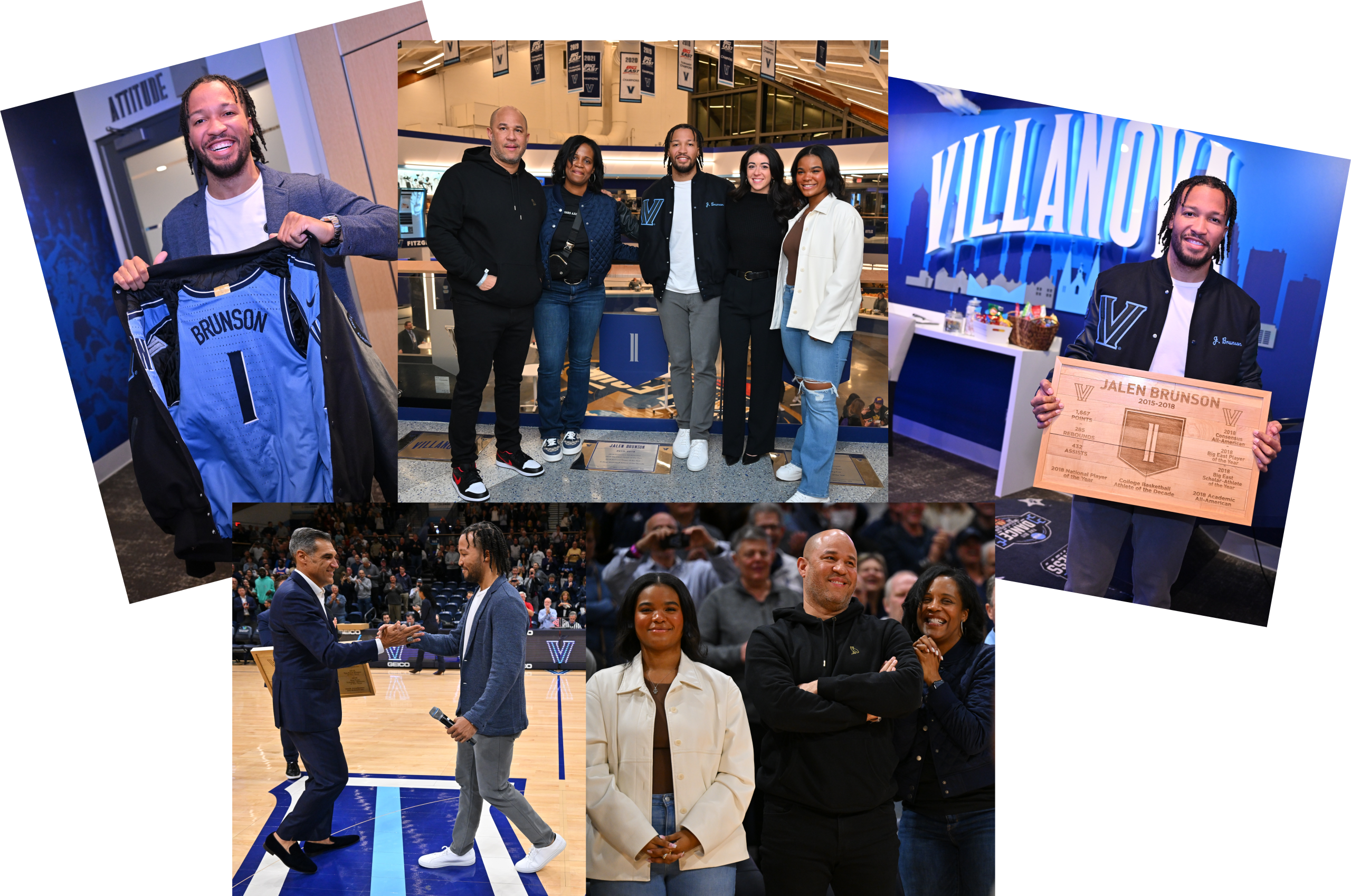 Brunson's Jersey is Retired by Villanova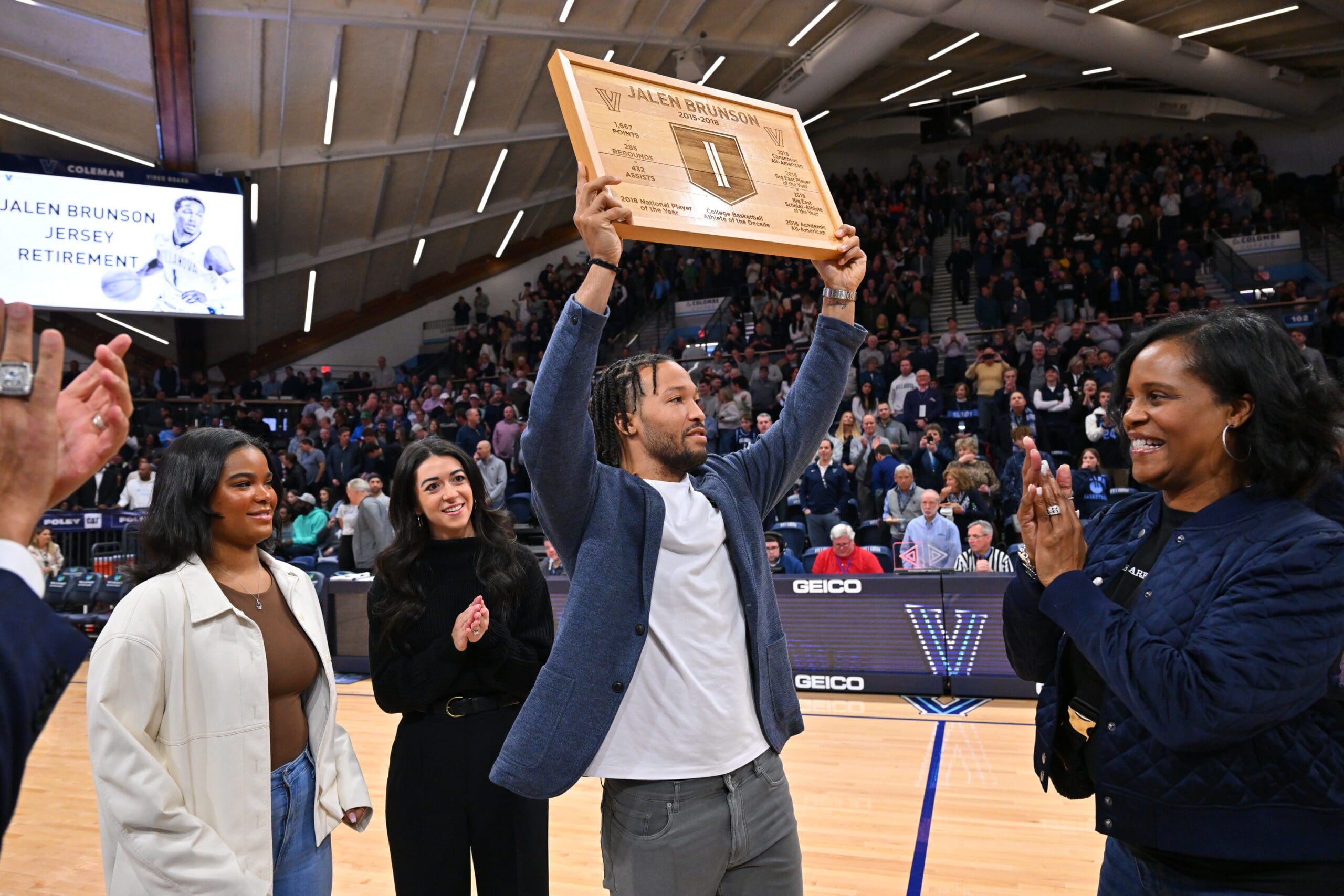 Photos Courtesy of Villanova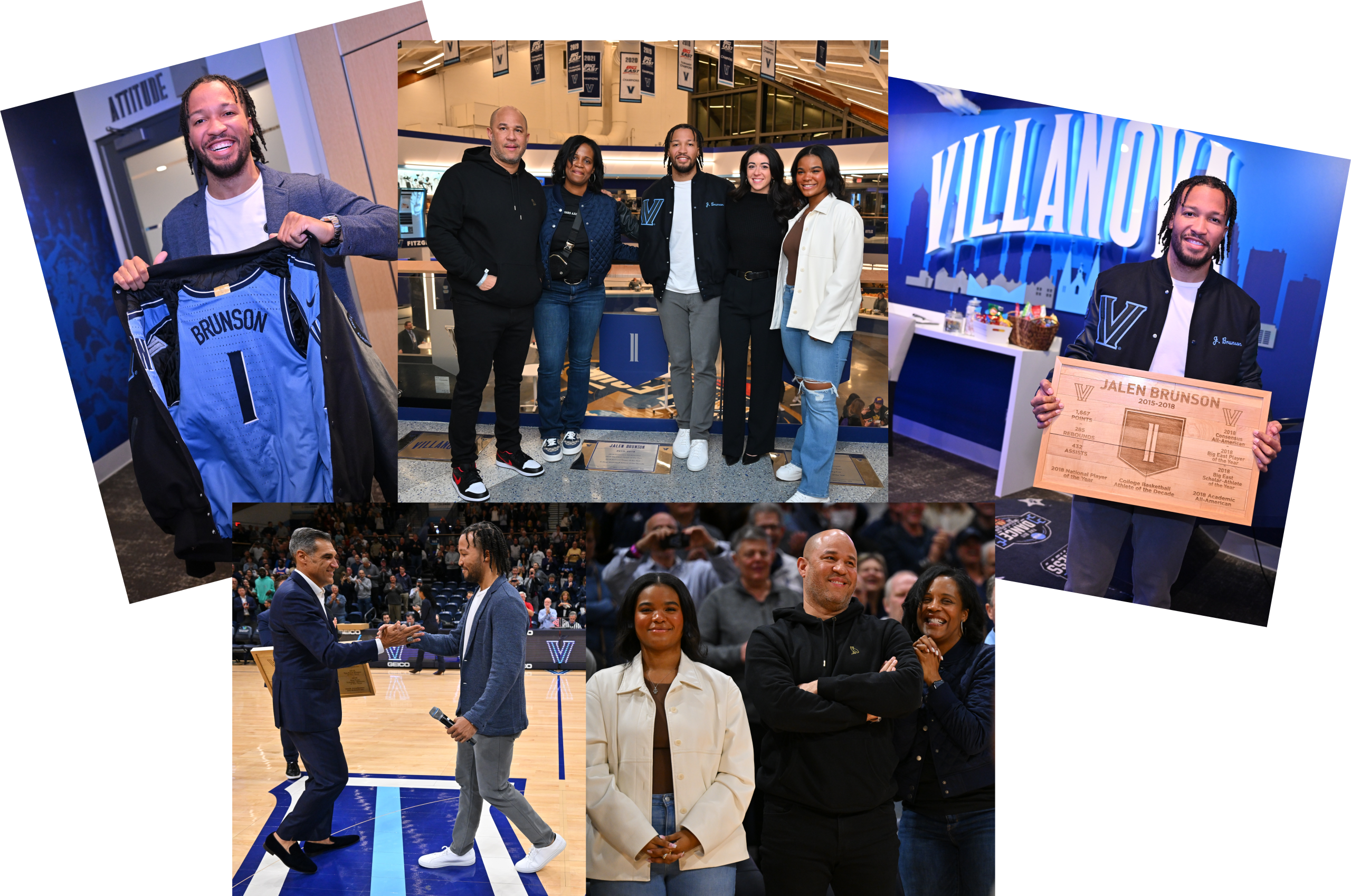 Earns Bachelor of Arts from Villanova
* Participated in 2019 Commencement Ceremony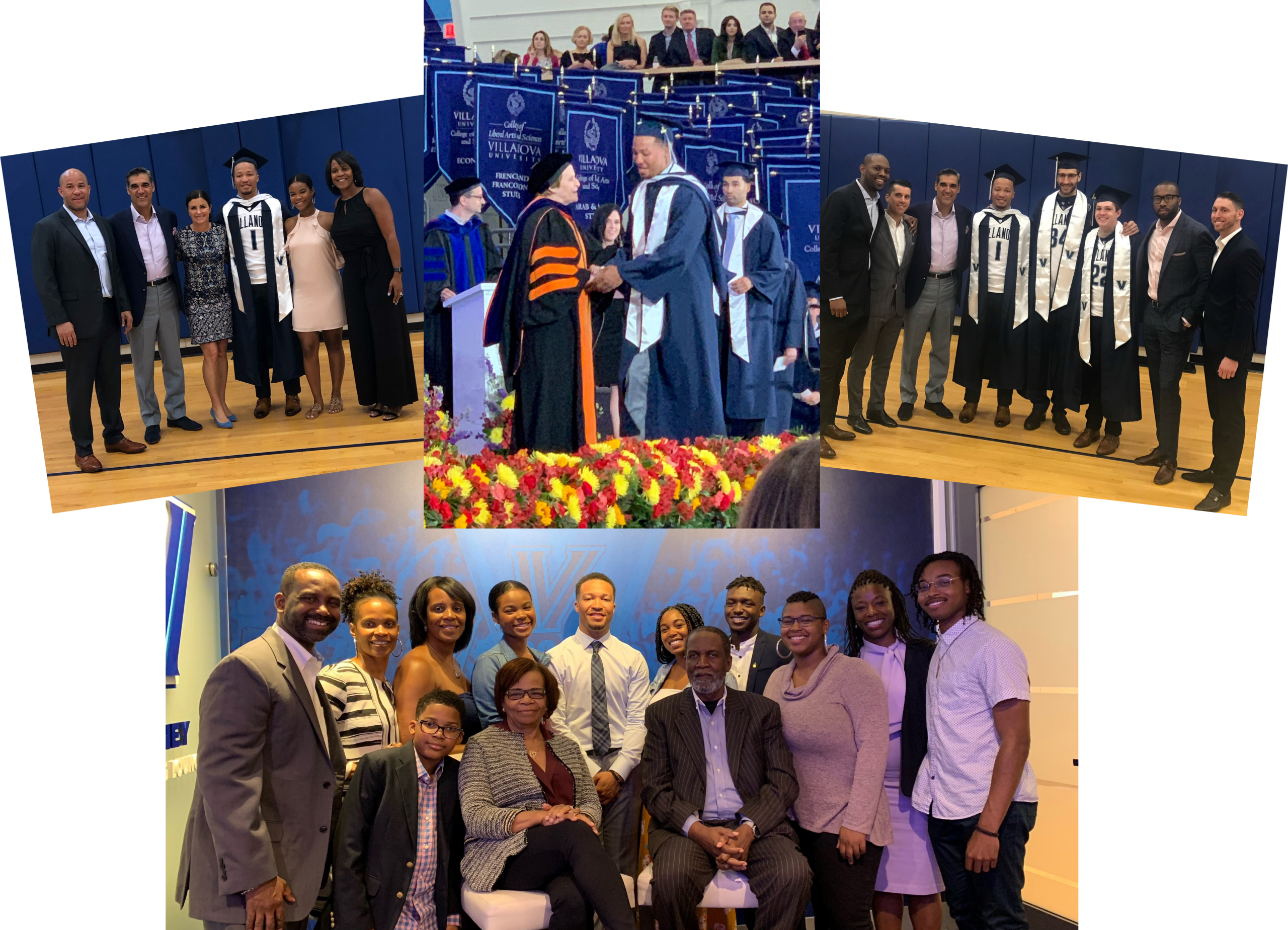 Photos Courtesy of Brunson Family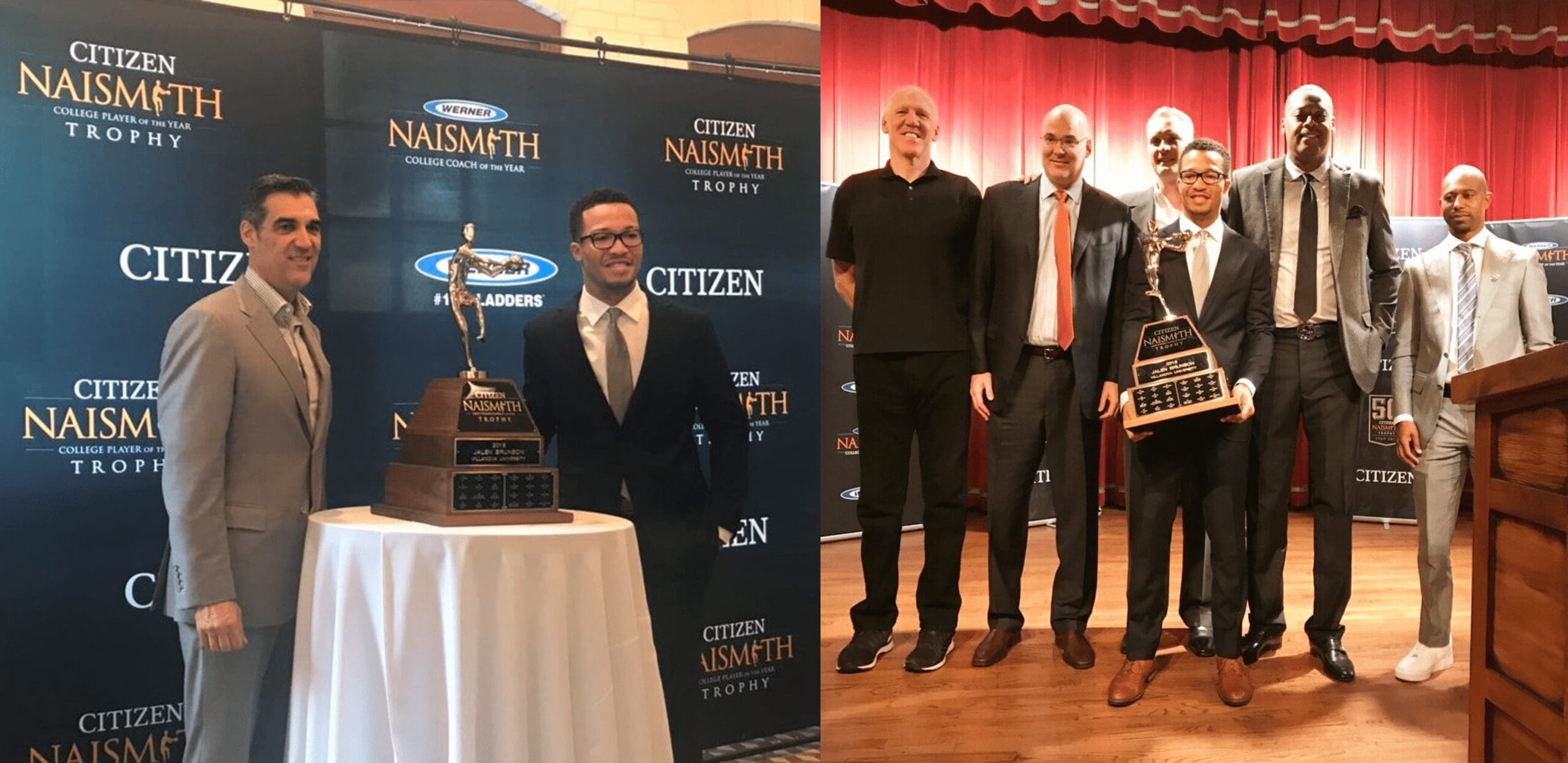 Photos Courtesy of Brunson Family
NAMED NAISMITH COLLEGE PLAYER OF THE YEAR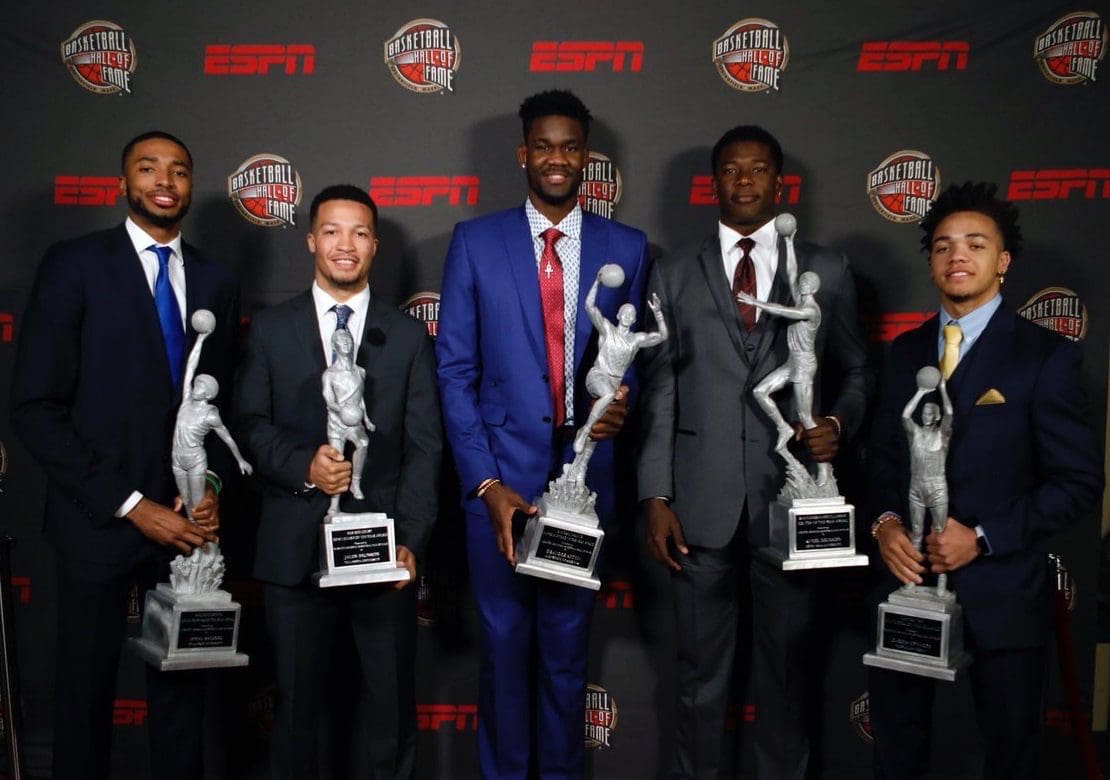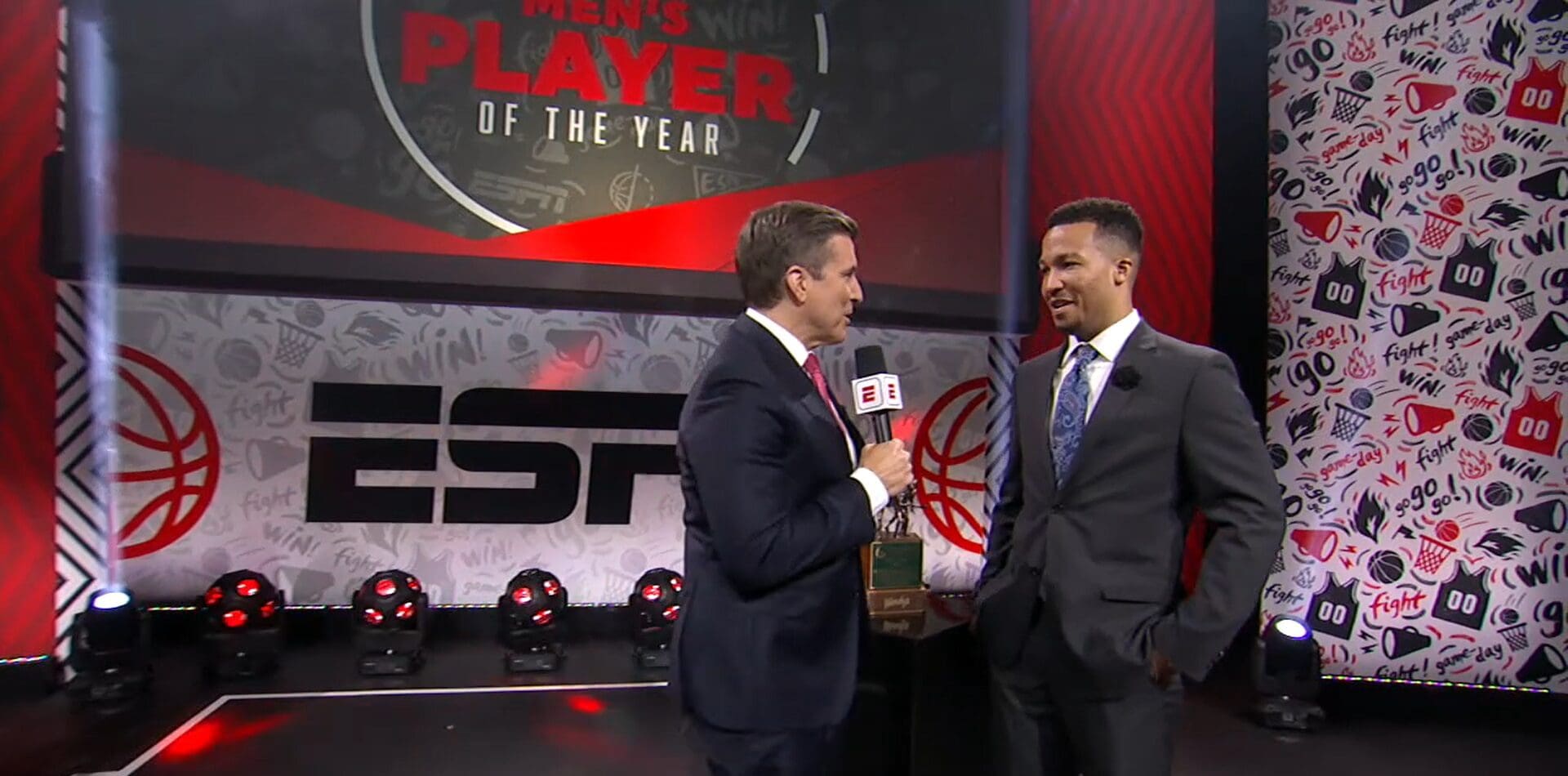 Wins John R. Wooden Player of the Year and NABC Player of the Year
VILLANOVA DEFEATS MICHIGAN TO CLAIM NATIONAL CHAMPIONSHIP TITLE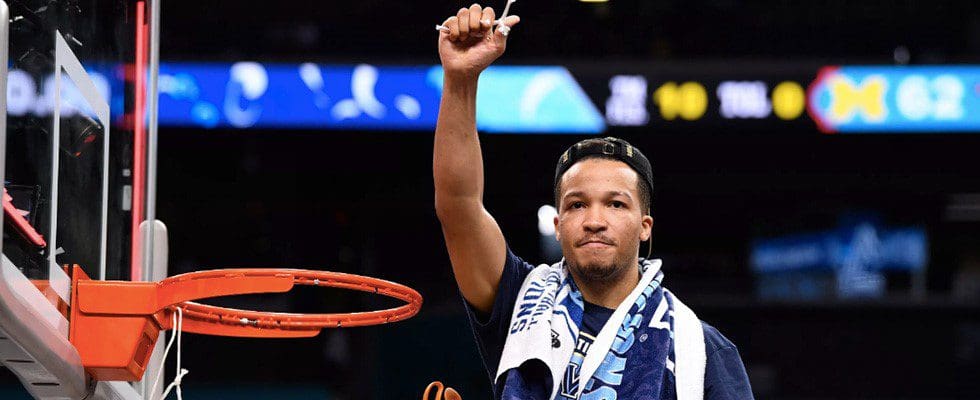 Photos Courtesy of Brunson Family & Villanova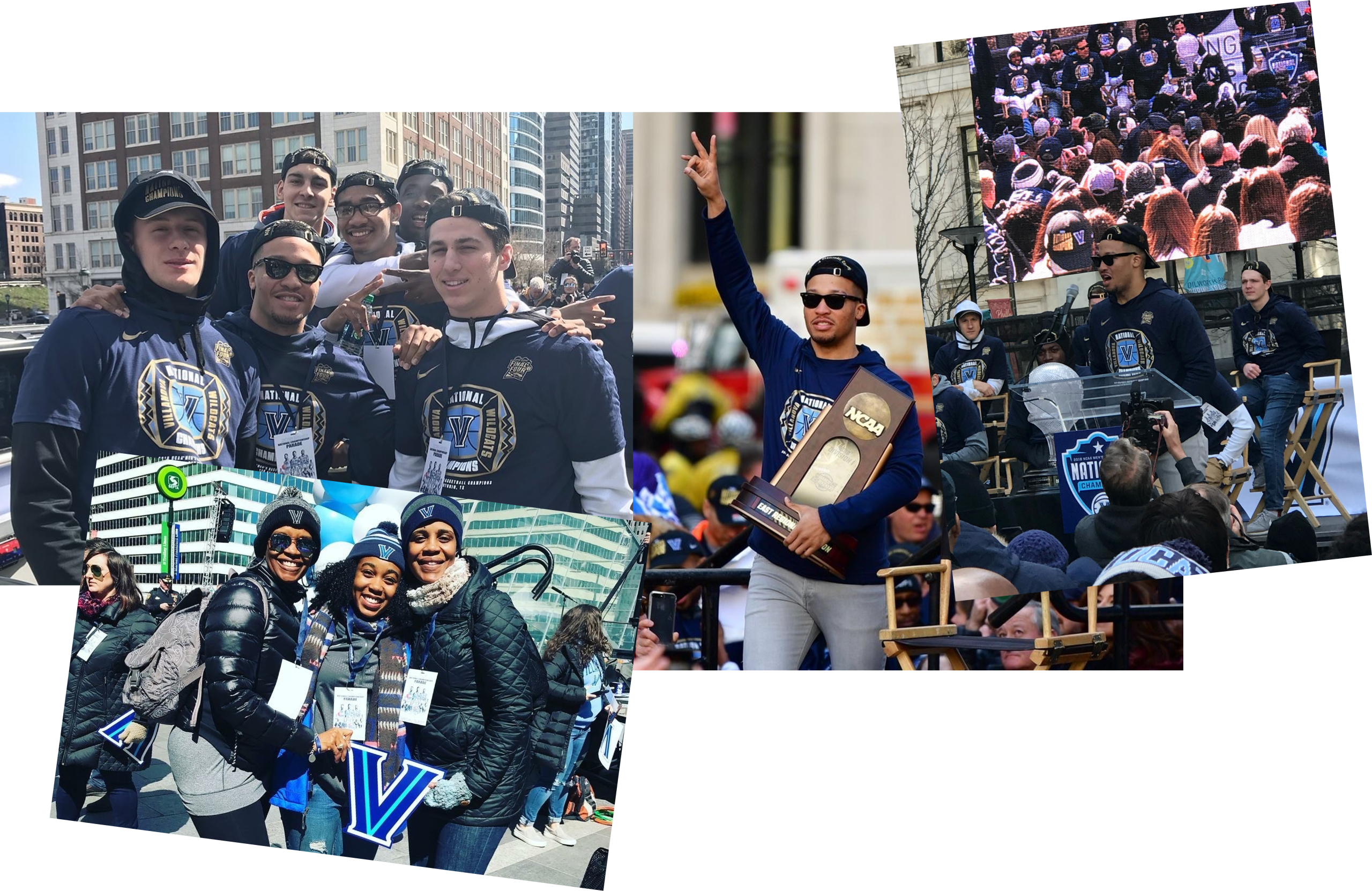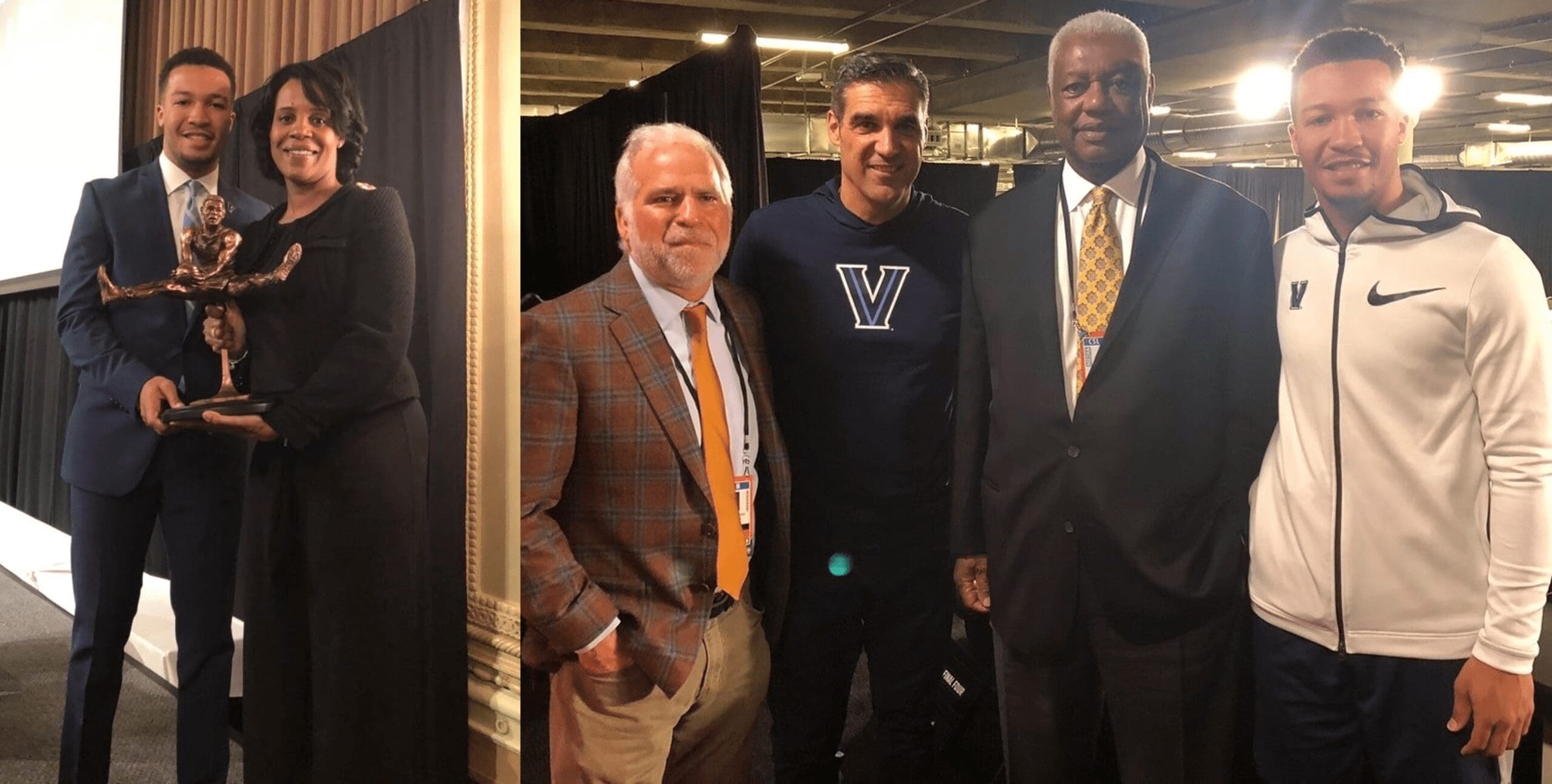 Photos Courtesy of Brunson Family
AWARDED USBWA OSCAR ROBERTSON TROPHY
AWARDED ASSOCIATED PRESS COLLEGE BASKETBALL PLAYER OF THE YEAR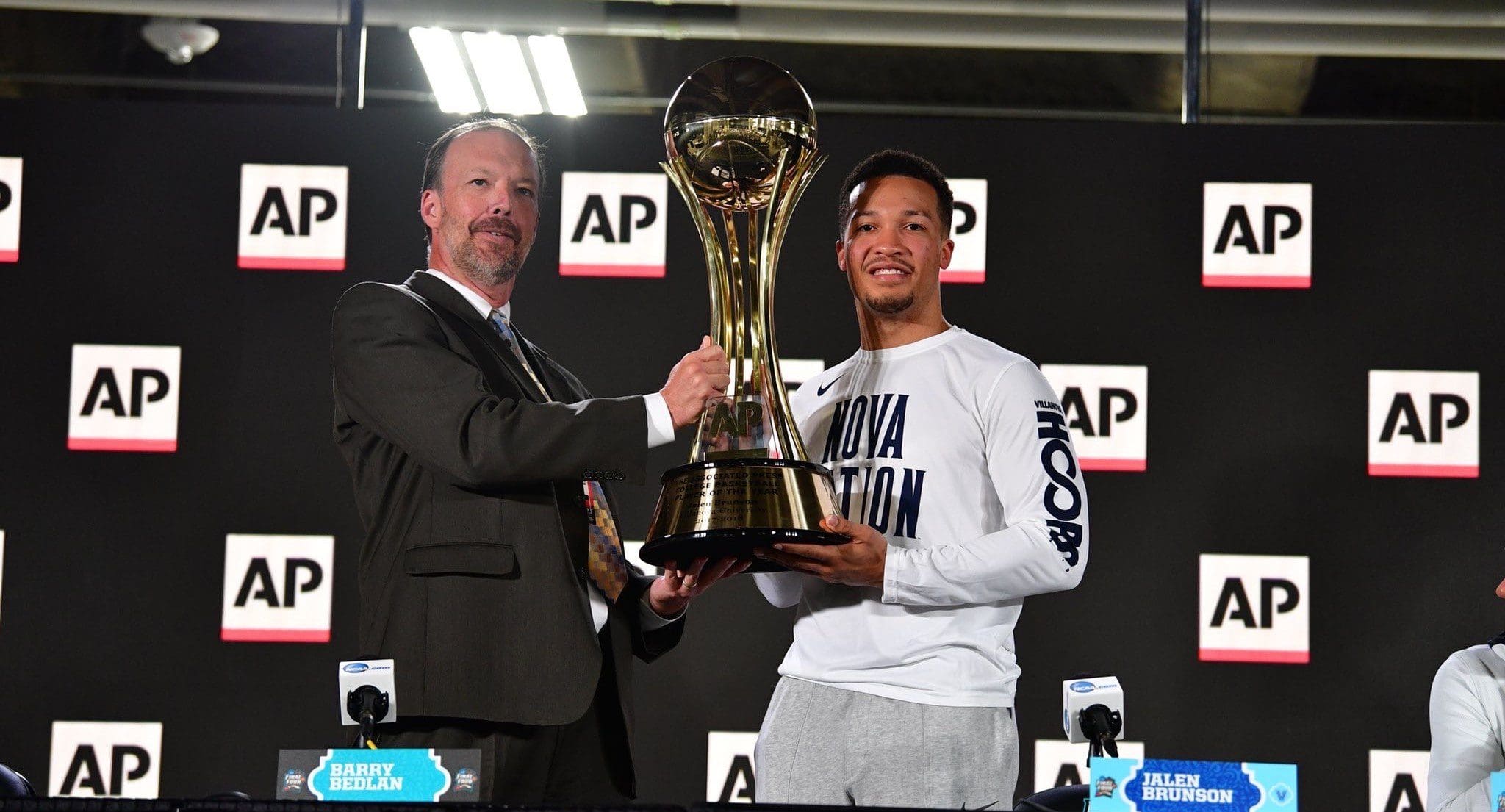 Photo Courtesy of Brunson Family
SELECTED AS A FIRST TEAM ALL-AMERICAN BY SPORTING NEWS, USBWA, ASSOCIATED PRESS, & NABC
NAMED MOST OUTSTANDING PLAYER OF THE EAST REGION ALL-TOURNAMENT TEAM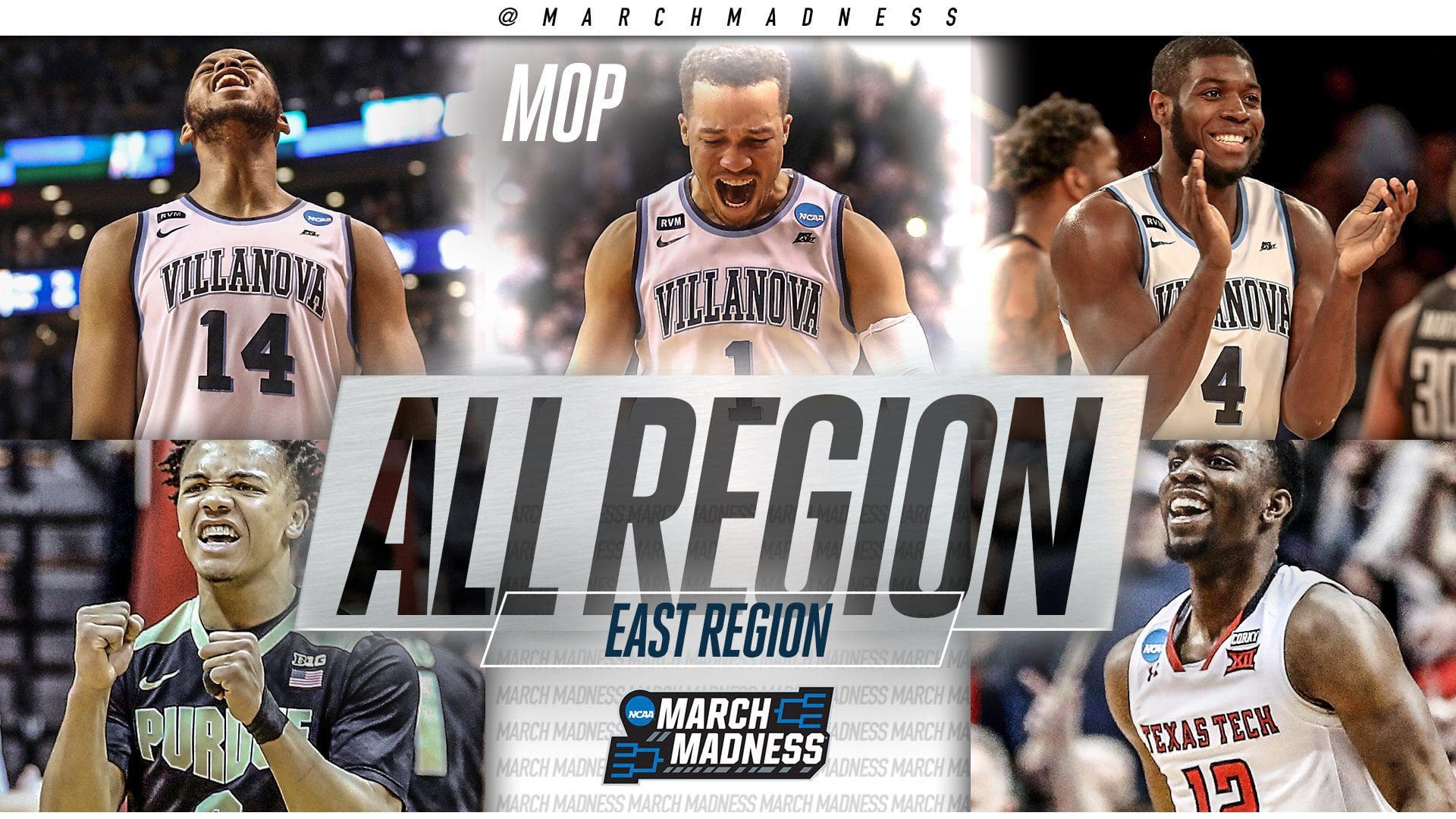 NAMED CBS SPORTS NATIONAL PLAYER OF THE YEAR & SPORTING NEWS' COLLEGE BASKETBALL PLAYER OF THE YEAR
NAMED BOTH BIG EAST CONFERENCE MEN'S BASKETBALL PLAYER OF THE YEAR & BIG EAST SCHOLAR-ATHLETE OF THE YEAR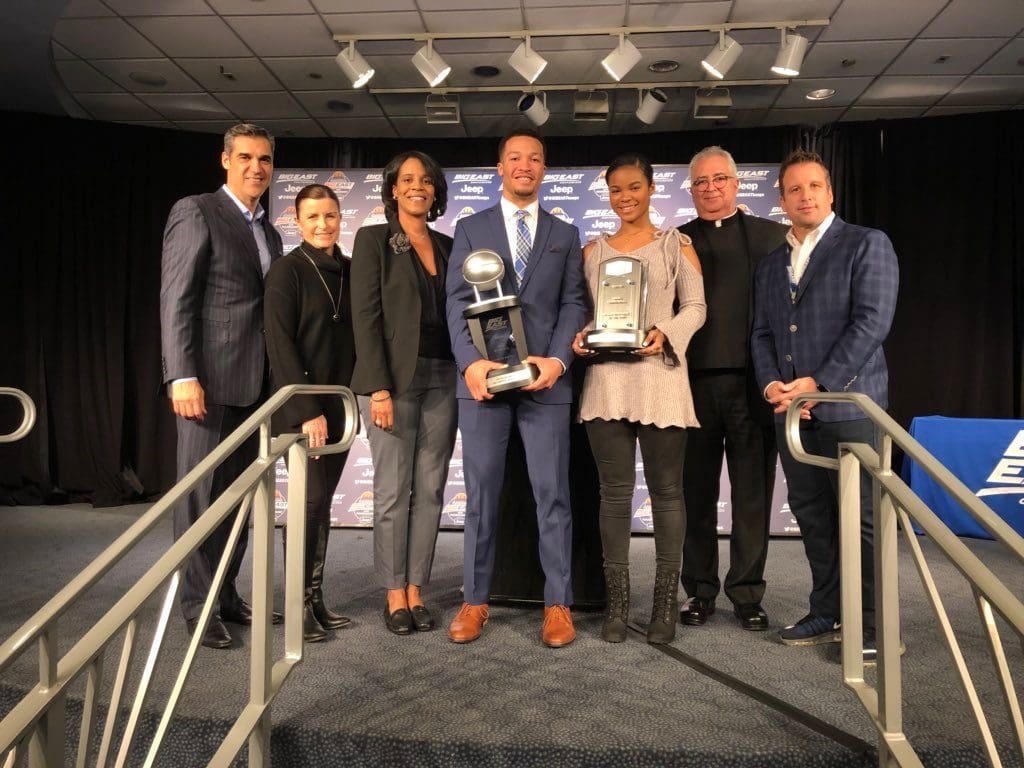 Photo Courtesy of Brunson Family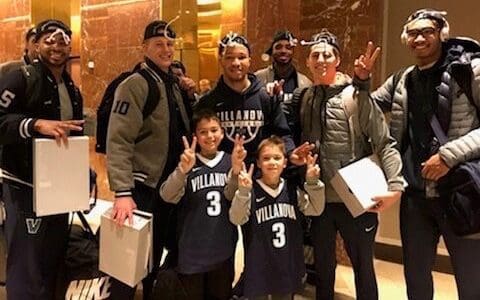 Photo Courtesy of Brunson Family
BRUNSON ONE OF THREE UNANIMOUS 2017-18 ALL-BIG EAST FIRST TEAM SELECTIONS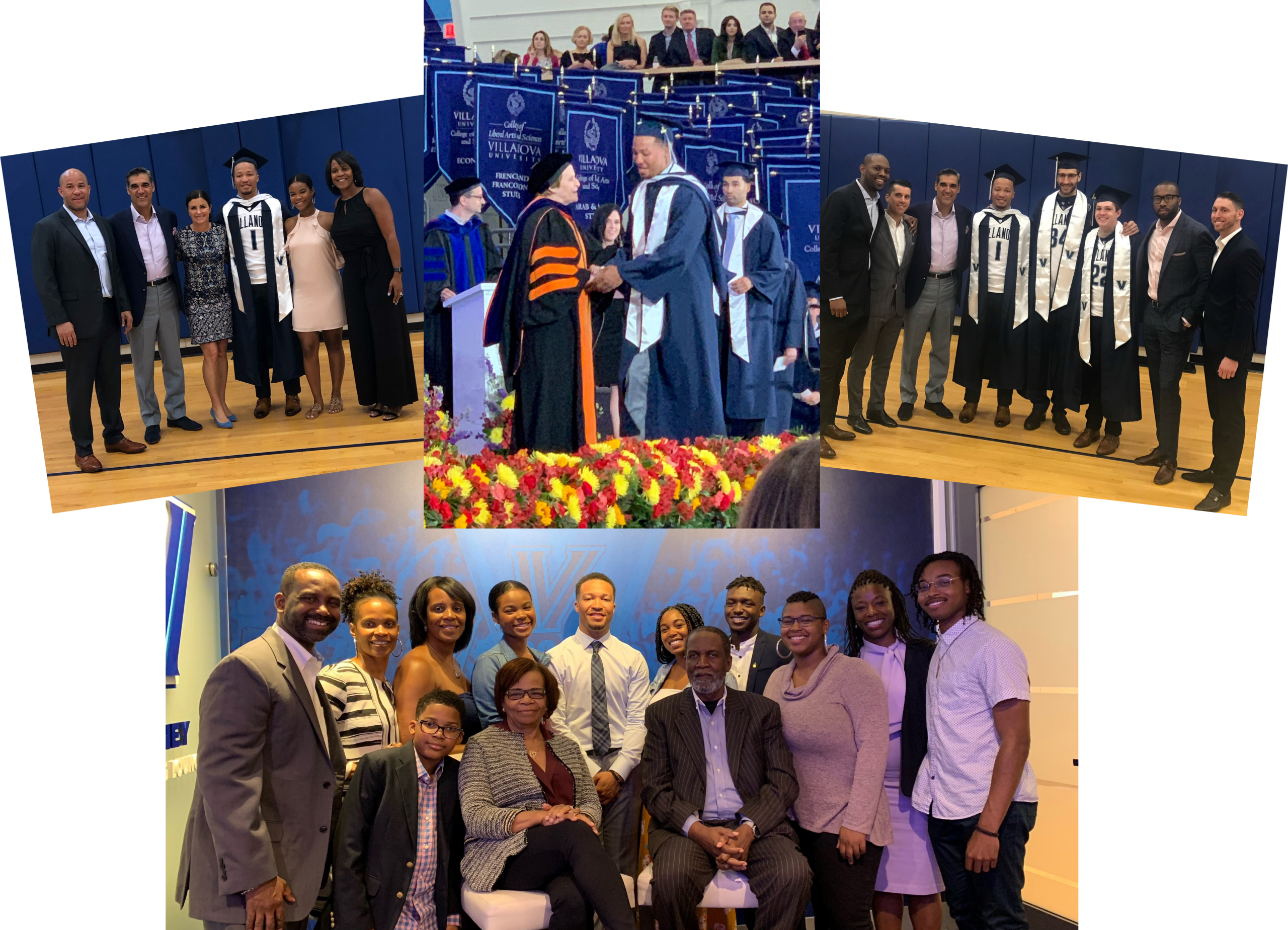 Photos Courtesy of Brunson Family
Earns Bachelor of Arts from Villanova
* Participated in 2019 Commencement Ceremony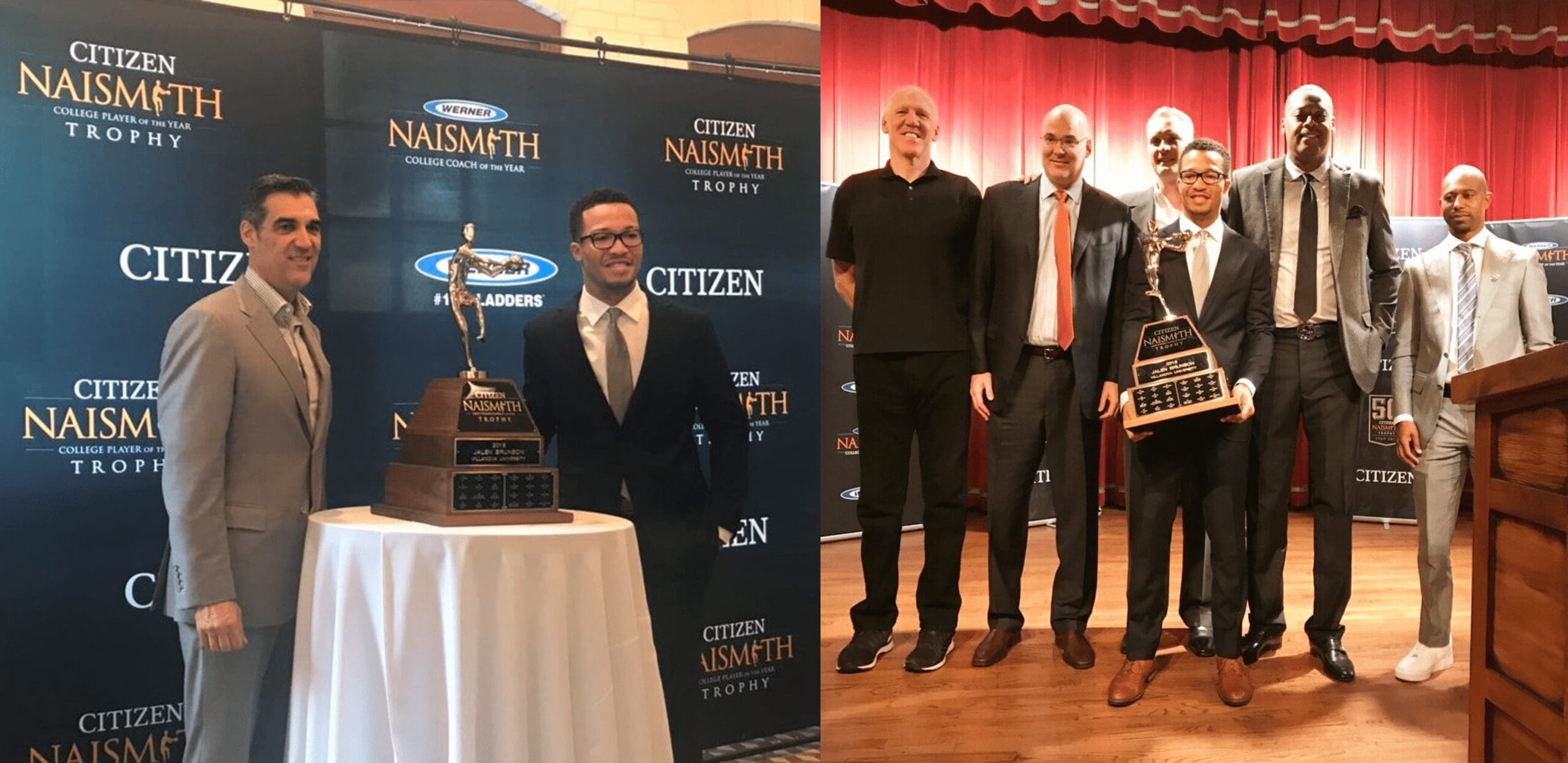 Photos Courtesy of Brunson Family
NAMED NAISMITH COLLEGE PLAYER OF THE YEAR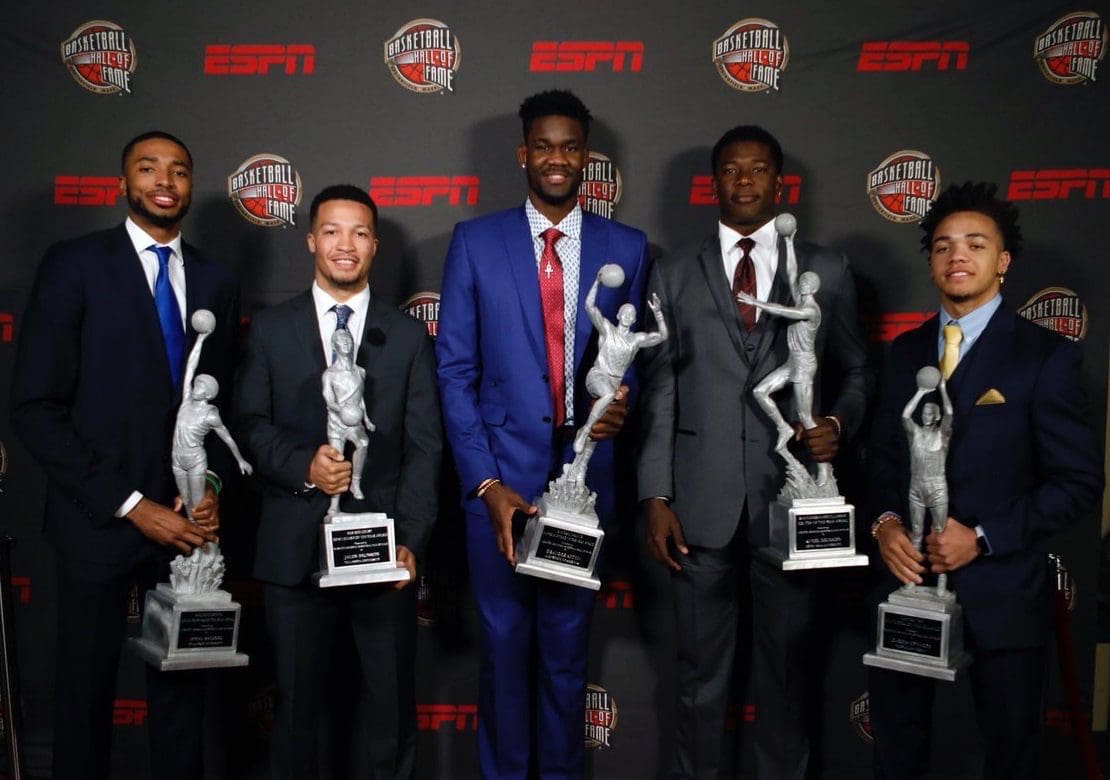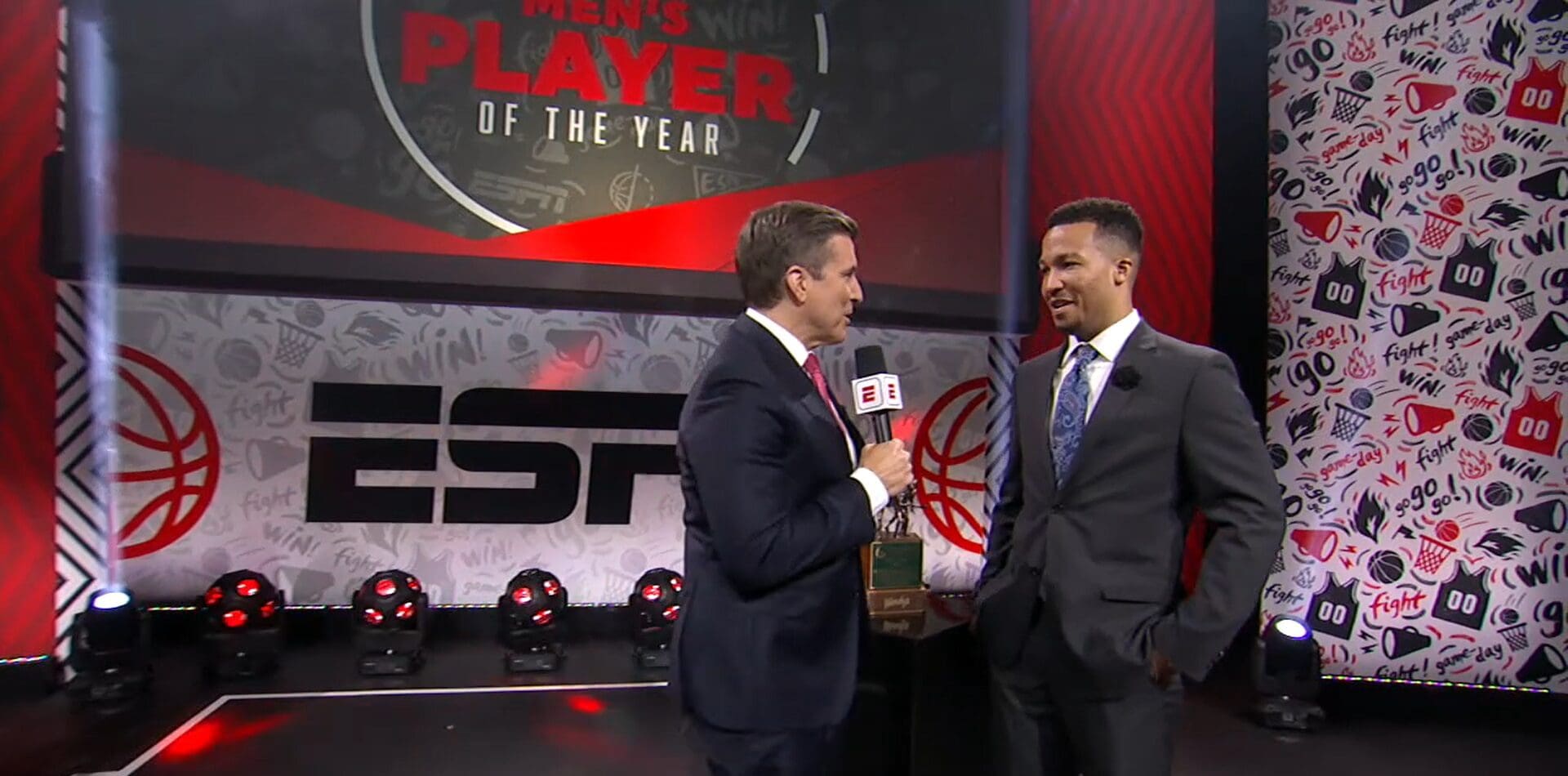 Wins John R. Wooden Player of the Year and NABC Player of the Year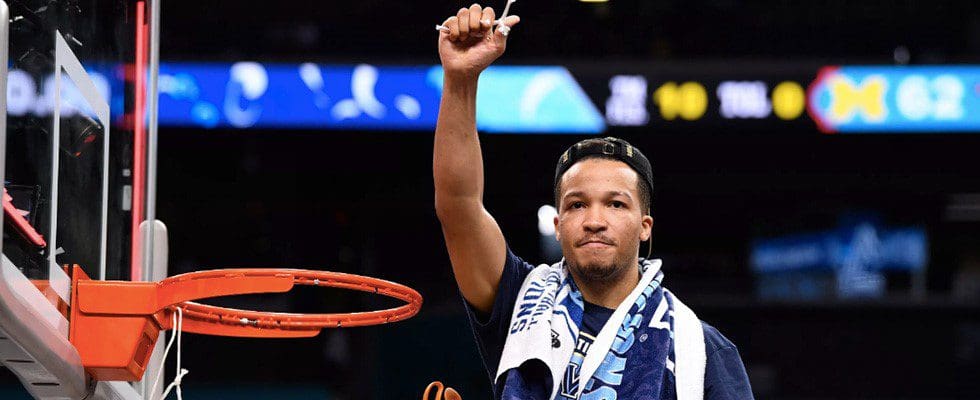 VILLANOVA DEFEATS MICHIGAN TO CLAIM NATIONAL CHAMPIONSHIP TITLE
Photos Courtesy of Brunson Family & Villanova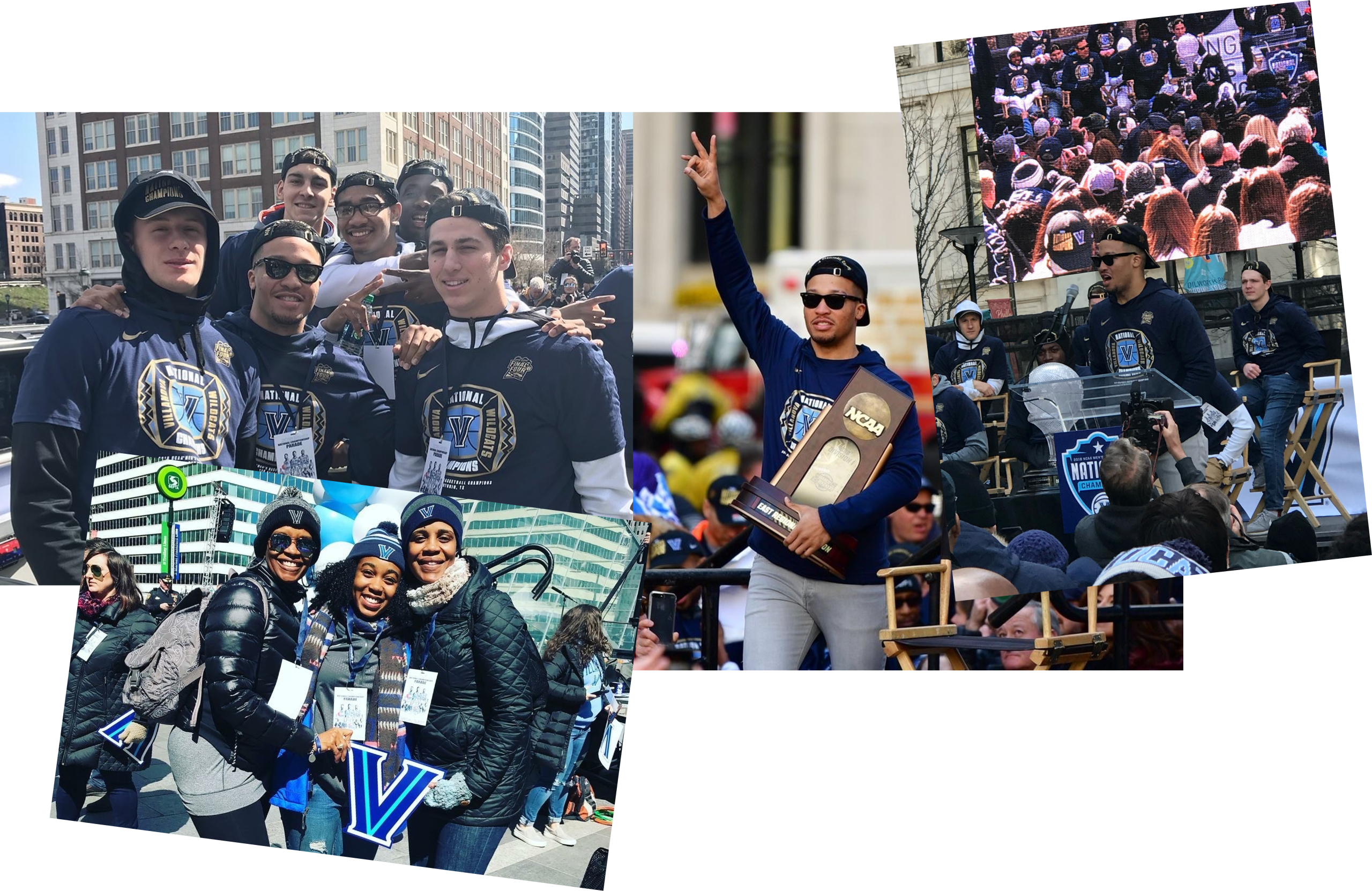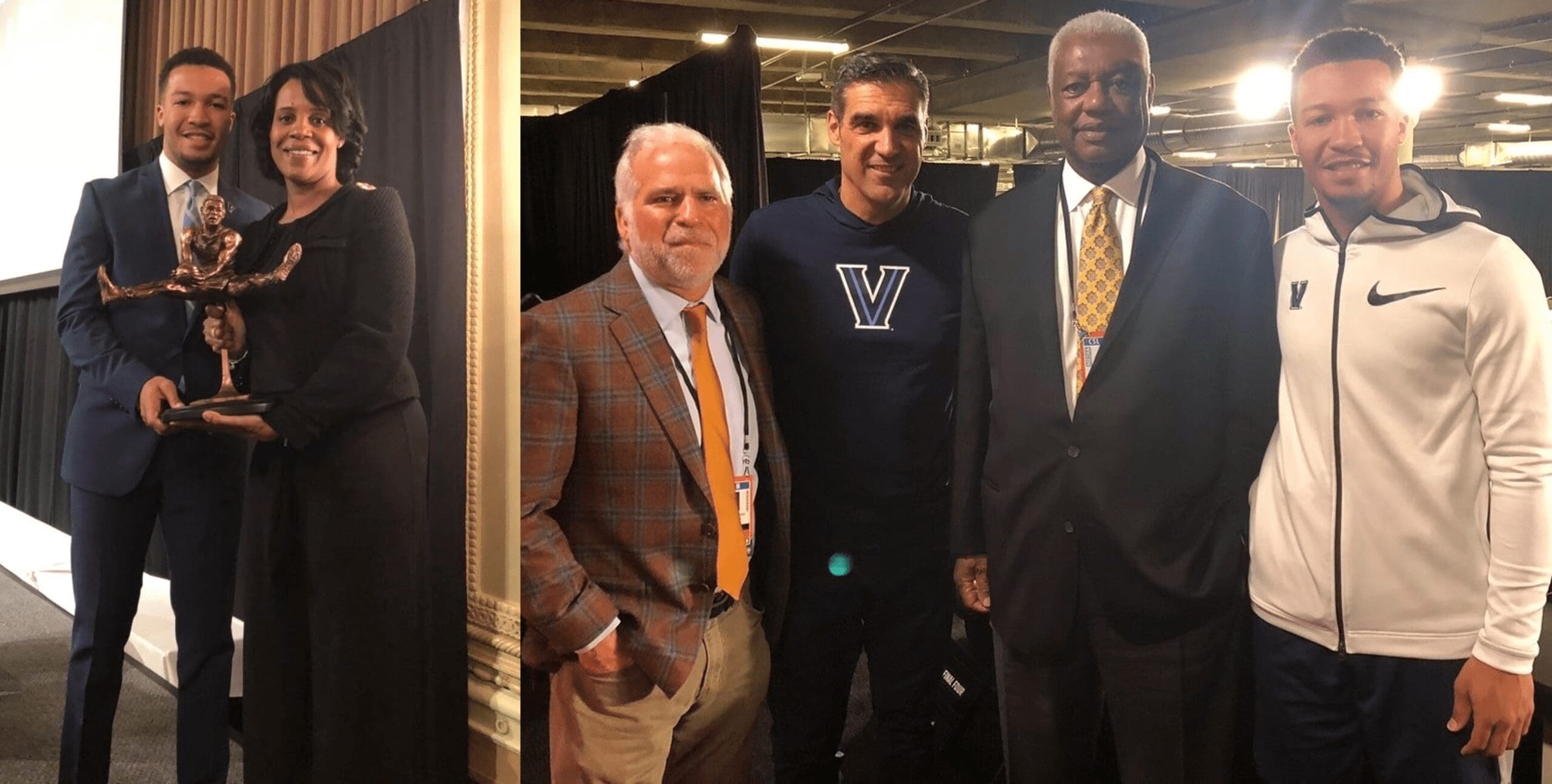 Photos Courtesy of Brunson Family
AWARDED USBWA OSCAR ROBERTSON TROPHY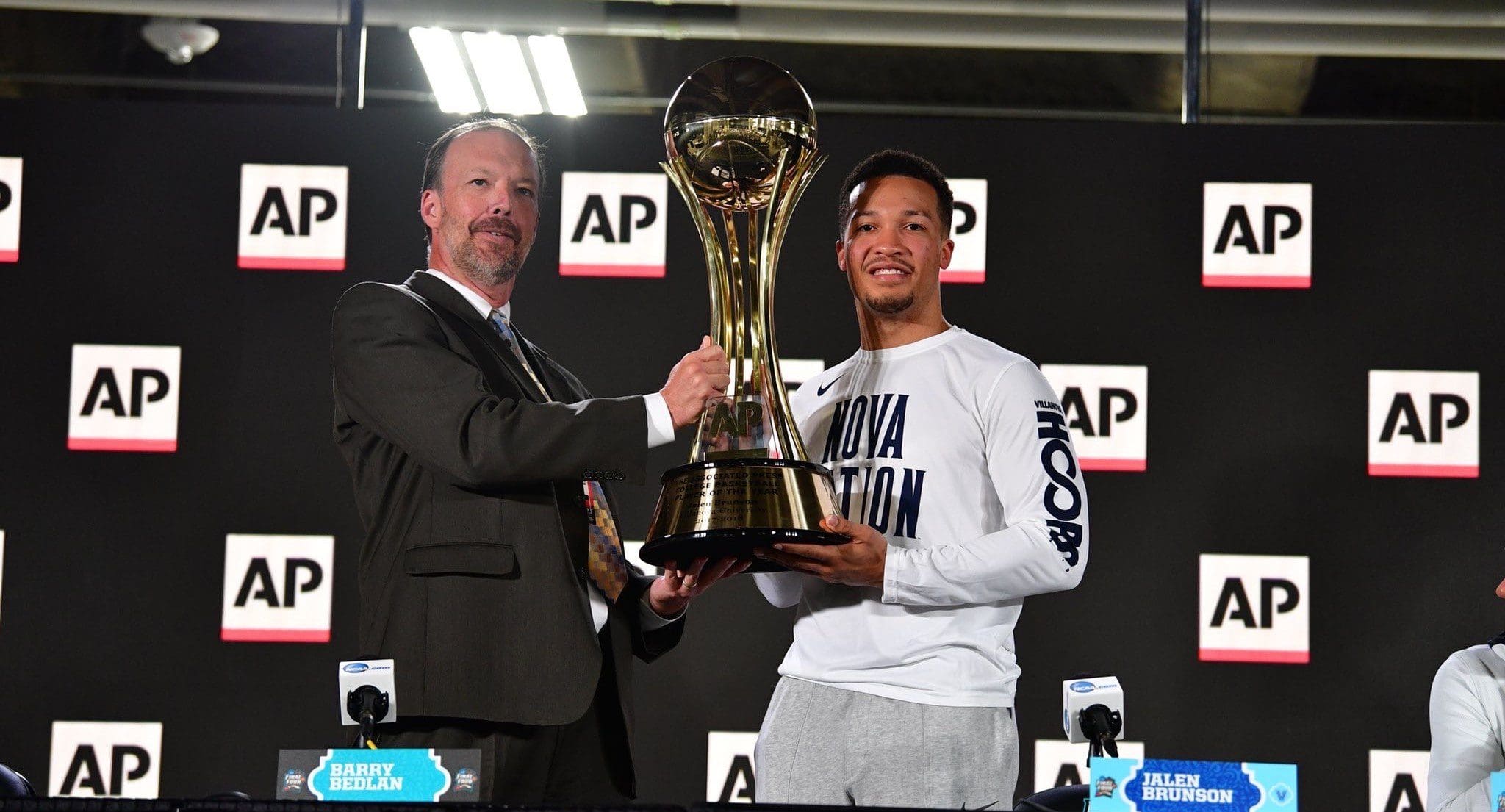 Photo Courtesy of Brunson Family
AWARDED ASSOCIATED PRESS COLLEGE BASKETBALL PLAYER OF THE YEAR
SELECTED AS A FIRST TEAM ALL-AMERICAN BY SPORTING NEWS, USBWA, ASSOCIATED PRESS, & NABC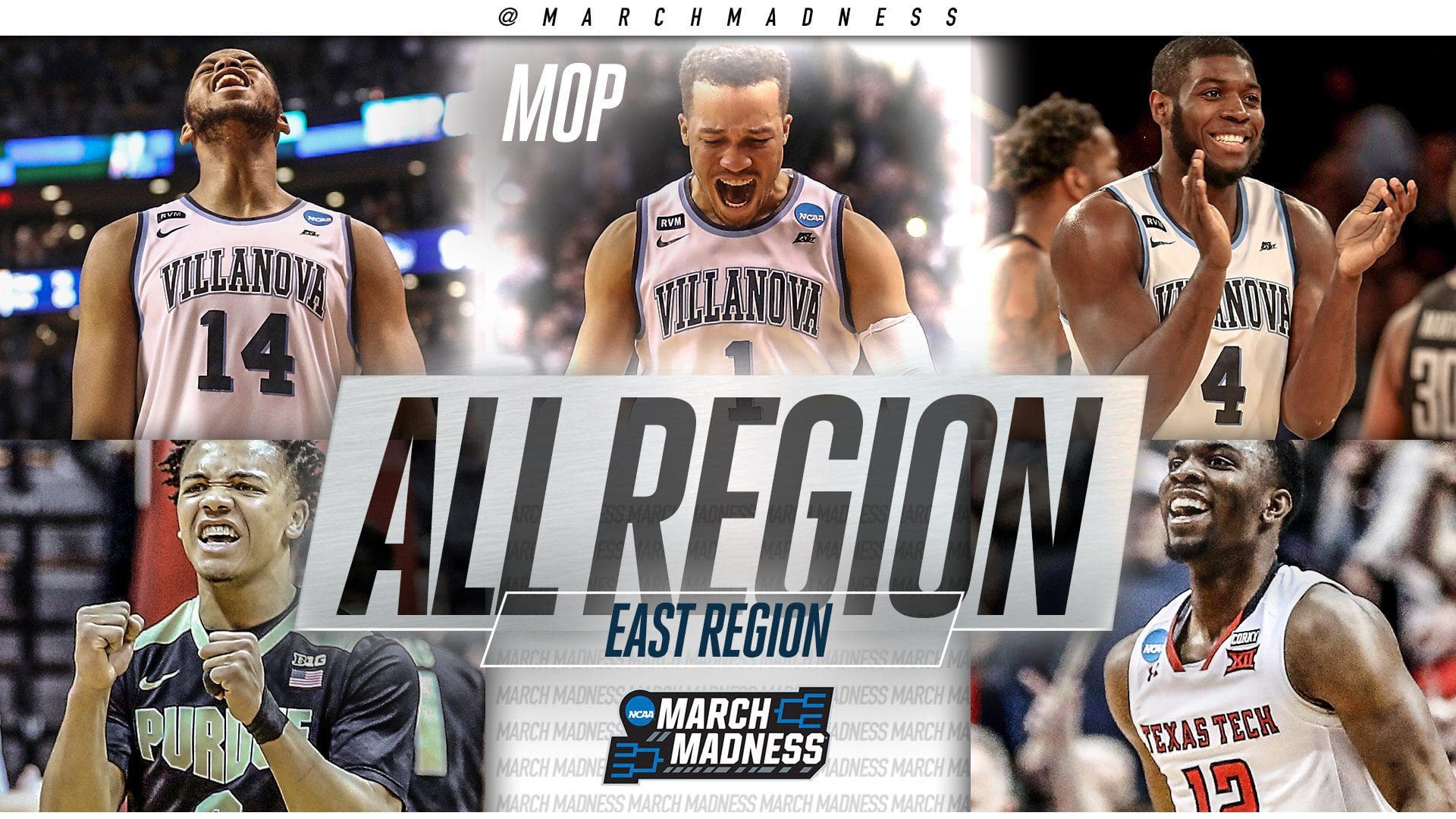 NAMED MOST OUTSTANDING PLAYER OF THE EAST REGION ALL-TOURNAMENT TEAM
NAMED CBS SPORTS NATIONAL PLAYER OF THE YEAR & SPORTING NEWS' COLLEGE BASKETBALL PLAYER OF THE YEAR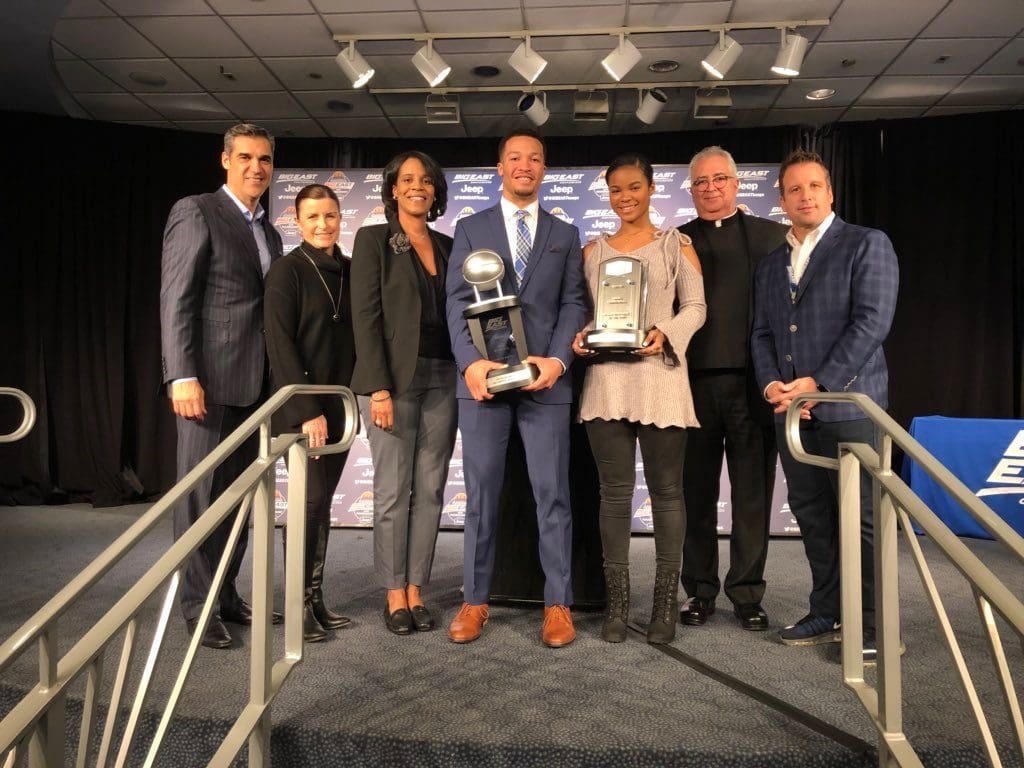 Photo Courtesy of Brunson Family
NAMED BOTH BIG EAST CONFERENCE MEN'S BASKETBALL PLAYER OF THE YEAR & BIG EAST SCHOLAR-ATHLETE OF THE YEAR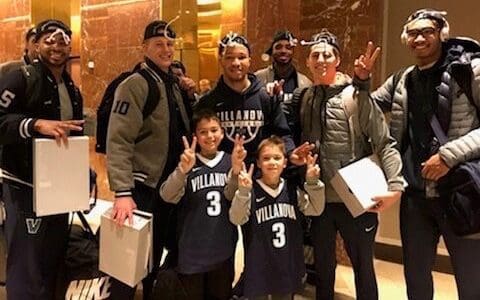 Photo Courtesy of Brunson Family
BRUNSON ONE OF THREE UNANIMOUS 2017-18 ALL-BIG EAST FIRST TEAM SELECTIONS
EARNS MVP OF BATTLE 4 ATLANTIS TOURNAMENT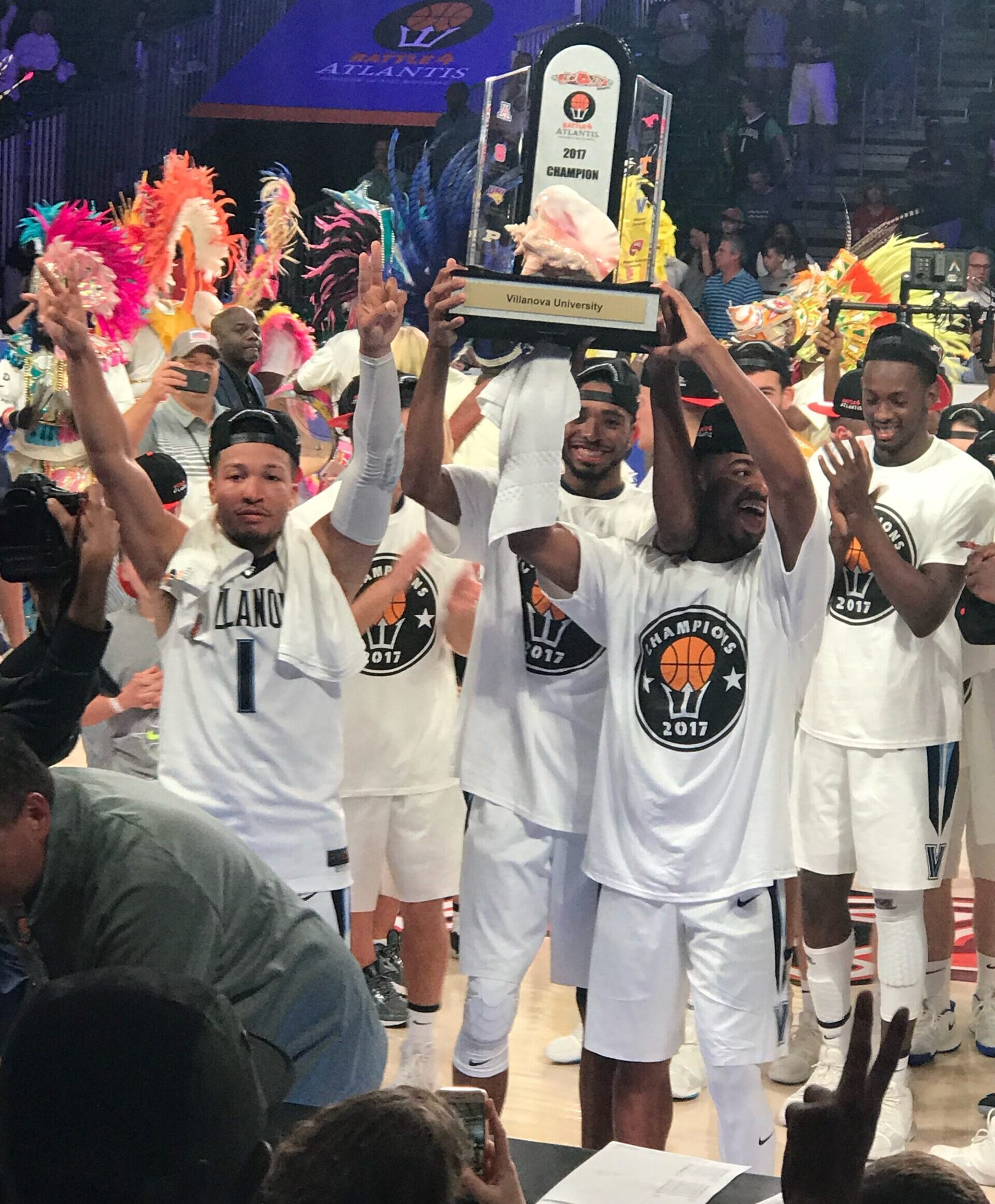 Photo Courtesy of Brunson Family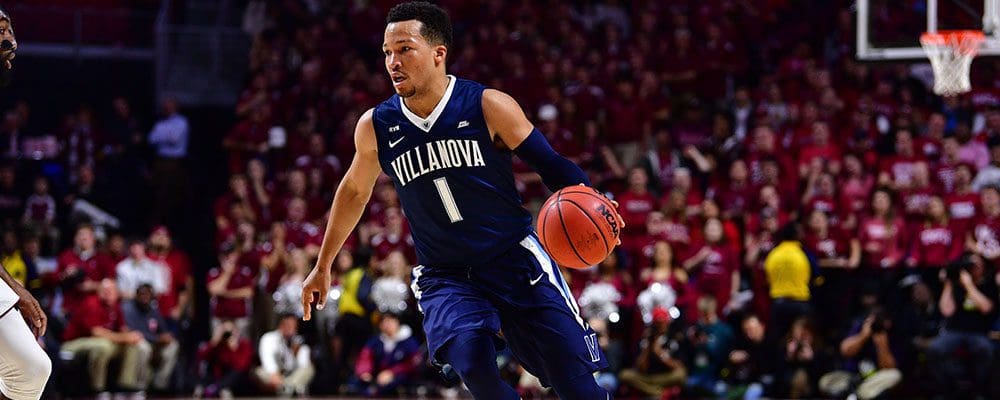 NAMED PRE-SEASON ALL-AMERICAN 1ST TEAM SELECTION BY ASSOCIATED PRESS
RECOGNIZED AS 2017-18 PRE-SEASON ALL-BIG EAST PLAYER OF THE YEAR
BRUNSON ONE OF FOUR UNANIMOUS 2016-17 ALL-BIG EAST FIRST TEAM SELECTIONS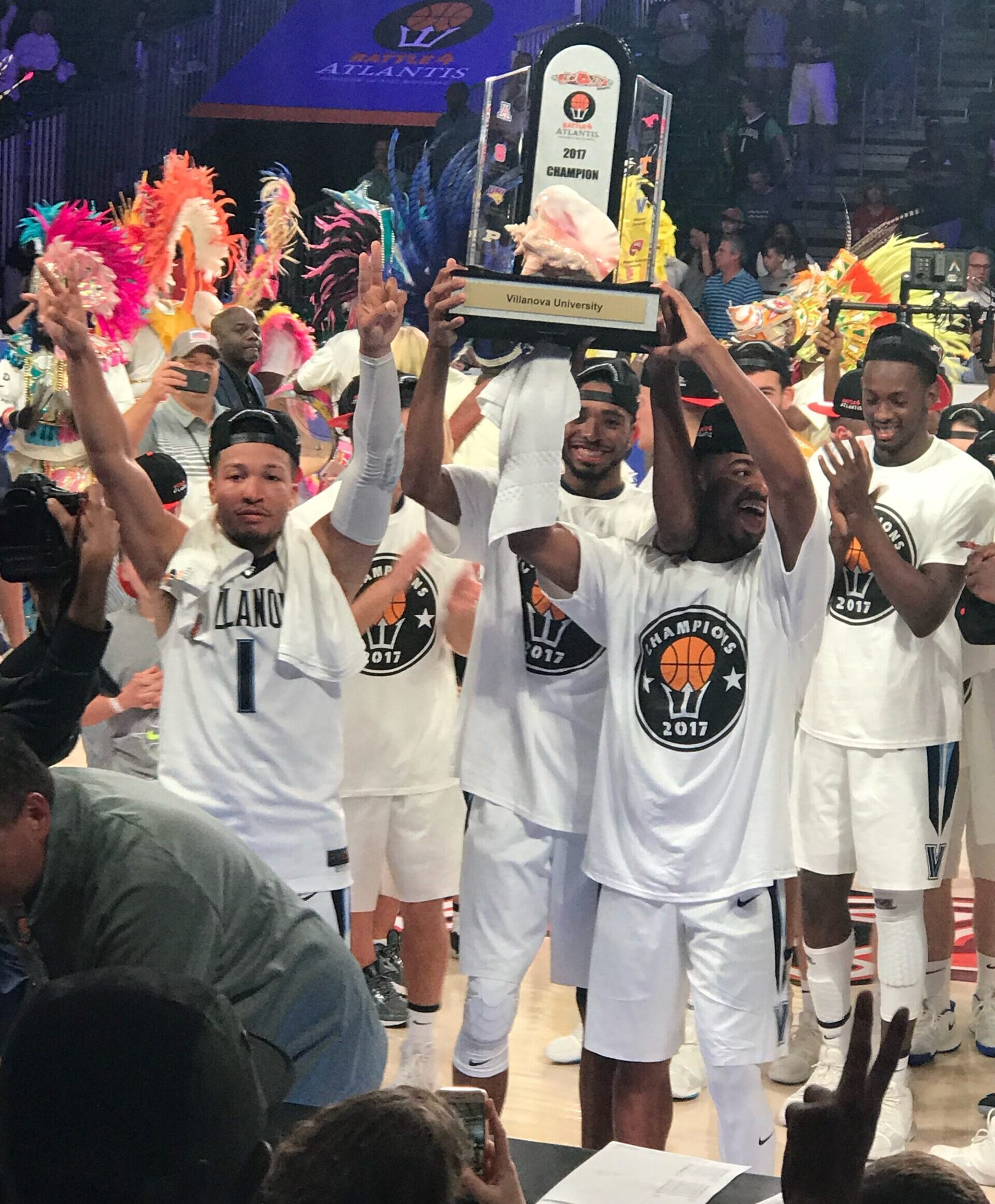 Photo Courtesy of Brunson Family
EARNS MVP OF BATTLE 4 ATLANTIS TOURNAMENT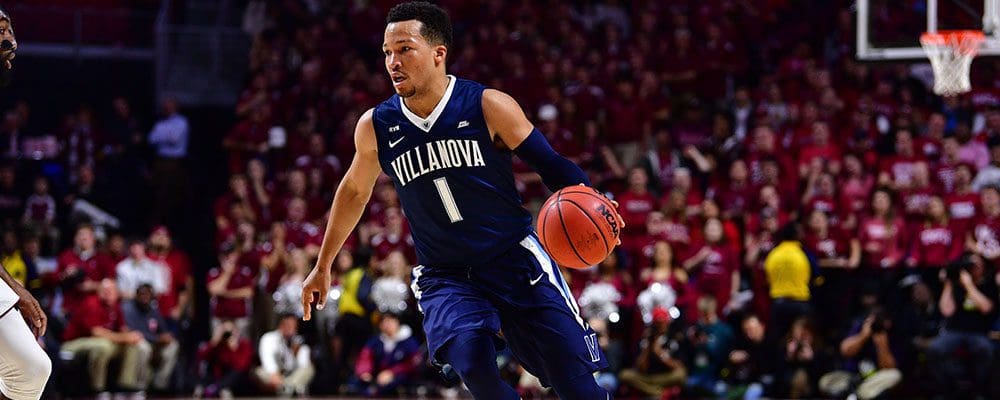 NAMED PRE-SEASON ALL-AMERICAN 1ST TEAM SELECTION BY ASSOCIATED PRESS
RECOGNIZED AS 2017-18 PRE-SEASON ALL-BIG EAST PLAYER OF THE YEAR
BRUNSON ONE OF FOUR UNANIMOUS 2016-17 ALL-BIG EAST FIRST TEAM SELECTIONS
VILLANOVA DEFEATS UNC TO CLAIM NATIONAL CHAMPIONSHIP TITLE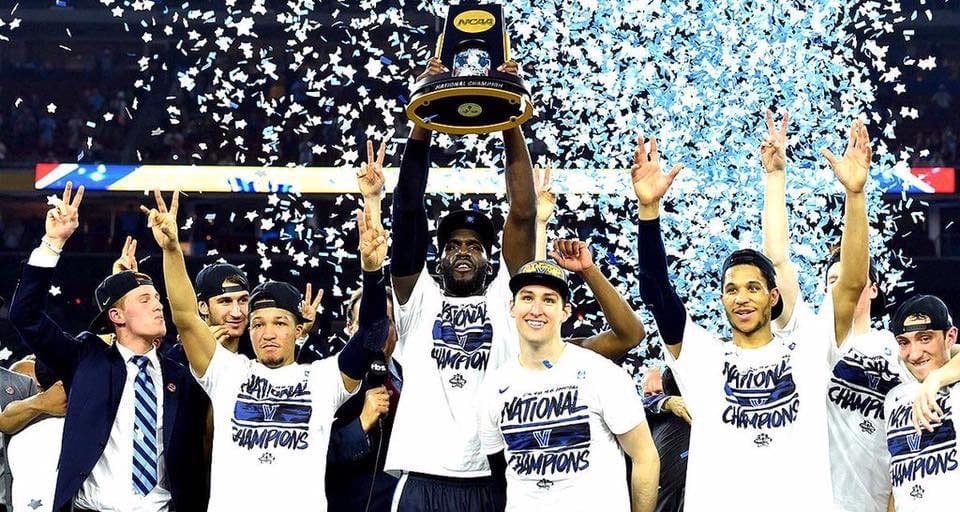 Photos Courtesy of Reuters 2016 & Brunson Family
VILLANOVA DEFEATS UNC TO CLAIM NATIONAL CHAMPIONSHIP TITLE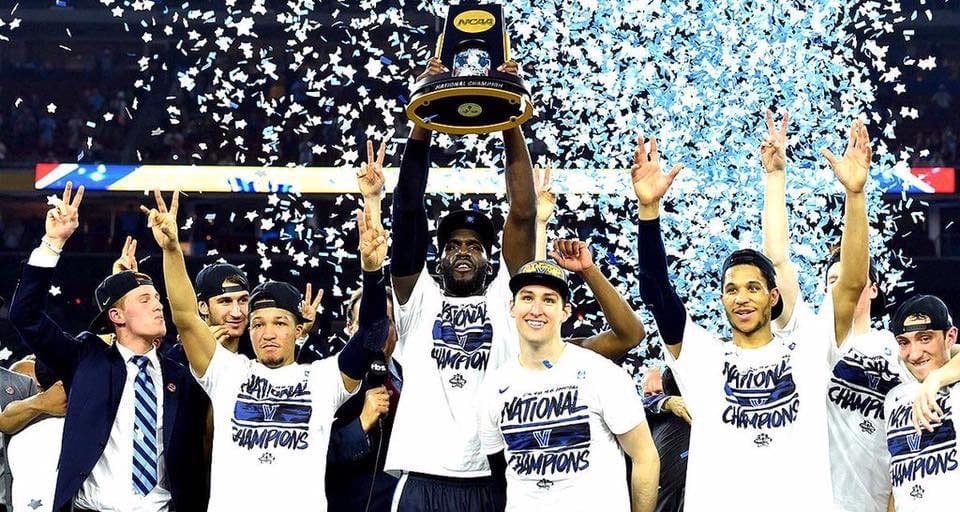 Photos Courtesy of Reuters 2016 & Brunson Family