USA Basketball
In 2014, Jalen was named a member of the 2014 USA U18 National Team. With a perfect 5-0 record, the team went on to win the FIBA Americas U18 Championship gold medal and qualified the U.S. for the 2015 FIBA U19 World Championship. In his campaign he averaged 12.0 points and a team second-best 5.6 assists per game.
In 2015, Jalen was selected to the 2015 USA Basketball U19 National Team. That team went on to compile a 7-0 record to win gold at the 2015 FIBA U19 World Championship in Heraklion, Greece. Jalen was named tournament MVP, averaging 14.0 points, 3.3 rebounds and team-highs of 5.6 assists and 2.1 steals a game.
To cap off this amazing year, Jalen was honored as the 2015 USA Basketball's Male Athlete of the Year. He joins a very prestigious group of NBA players, including Lebron James, Kyrie Irving, Jason Kidd, and Chris Paul.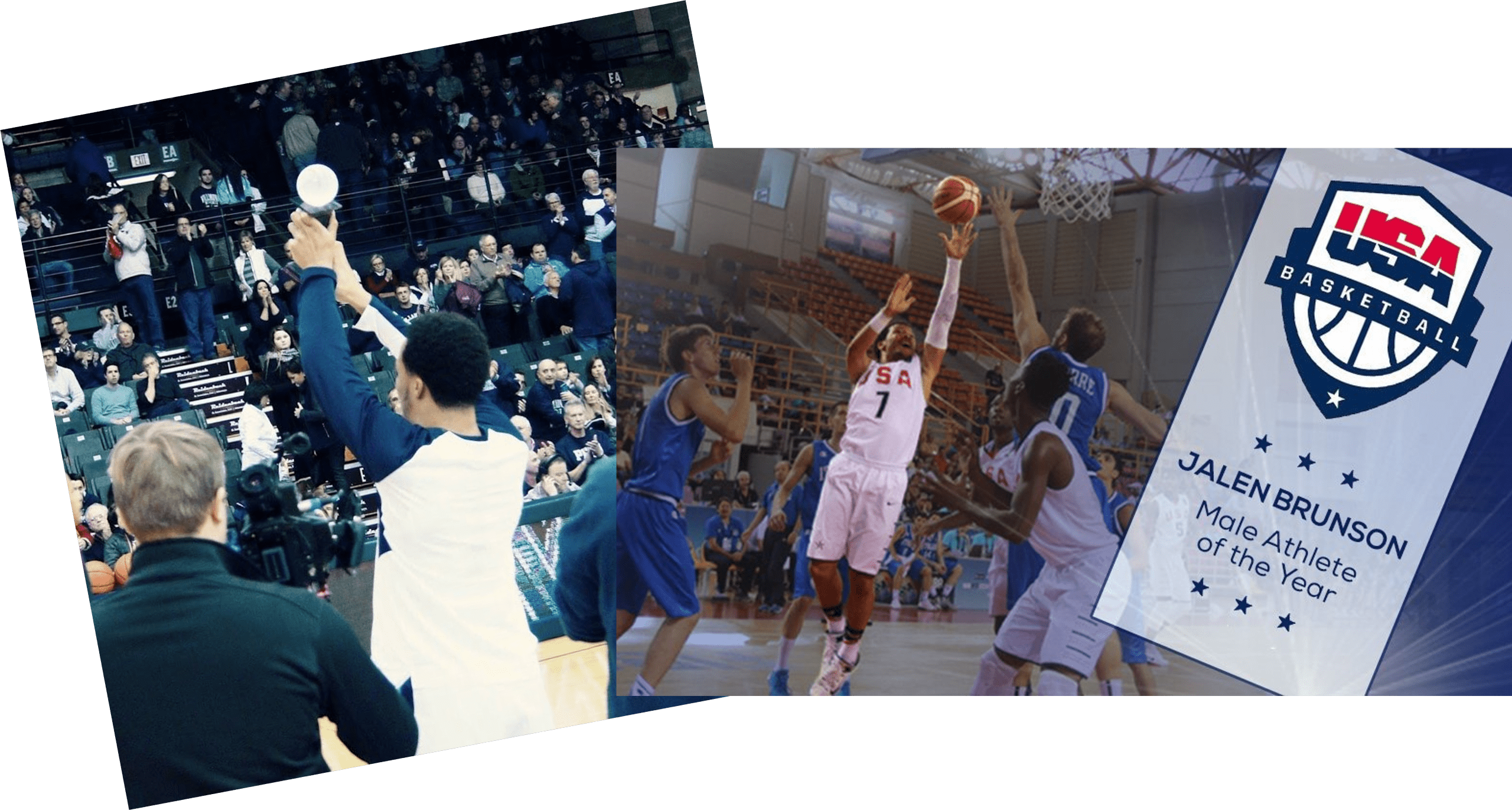 Photos Courtesy of Brunson Family & USA Basketball
NAMED MVP IN FIBA UNDER-19 WORLD CUP AFTER USA CLAIMS GOLD MEDAL, LEADING THE TEAM AVERAGING 5.6 ASSISTS & 2.1 STEALS
Photos Courtesy of USA Basketball
Photos Courtesy of Brunson Family & USA Basketball
SCORES 30 POINTS IN THE SEMI-FINALS AGAINST GREECE
JOINS 2015 USA BASKETBALL MEN'S U19 WORLD CUP TEAM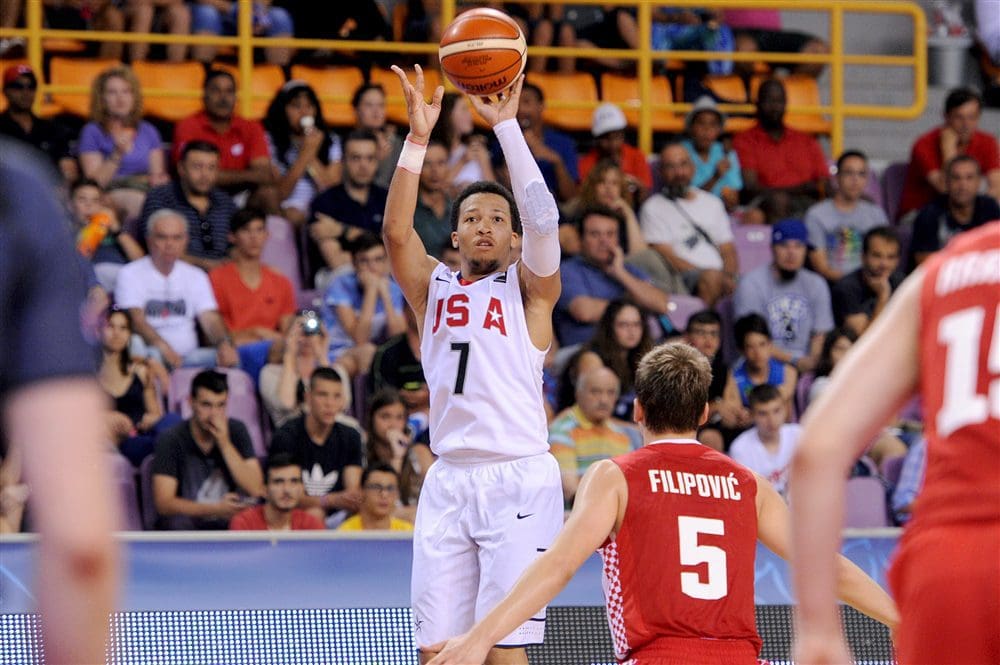 Photo Courtesy of USA Basketball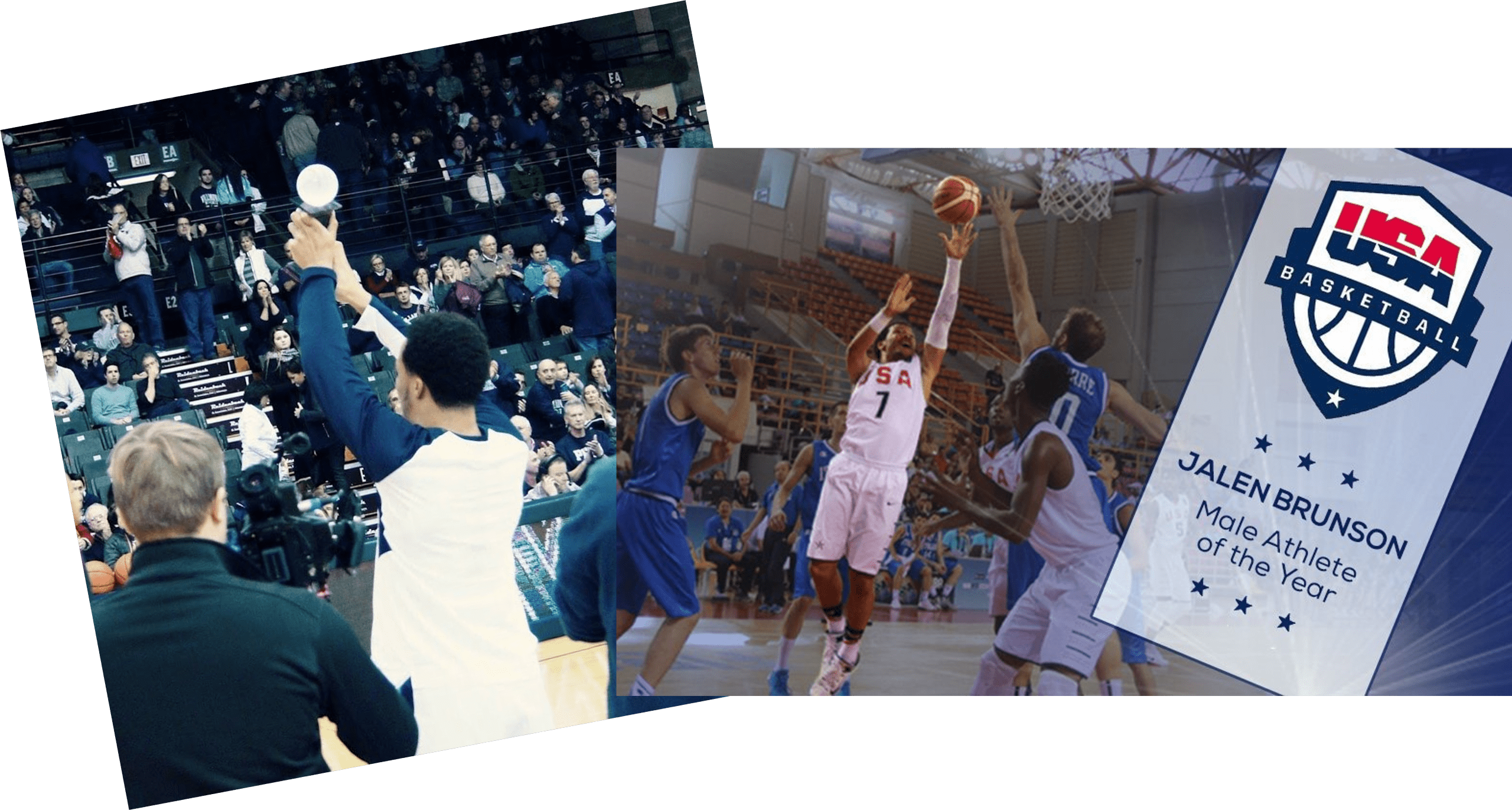 Photos Courtesy of Brunson Family & USA Basketball
Photo Courtesy of USA Basketball
NAMED MVP IN FIBA UNDER-19 WORLD CUP AFTER USA CLAIMS GOLD MEDAL, LEADING THE TEAM AVERAGING 5.6 ASSISTS & 2.1 STEALS
Photos Courtesy of Brunson Family & USA Basketball
SCORES 30 POINTS IN THE SEMI-FINALS AGAINST GREECE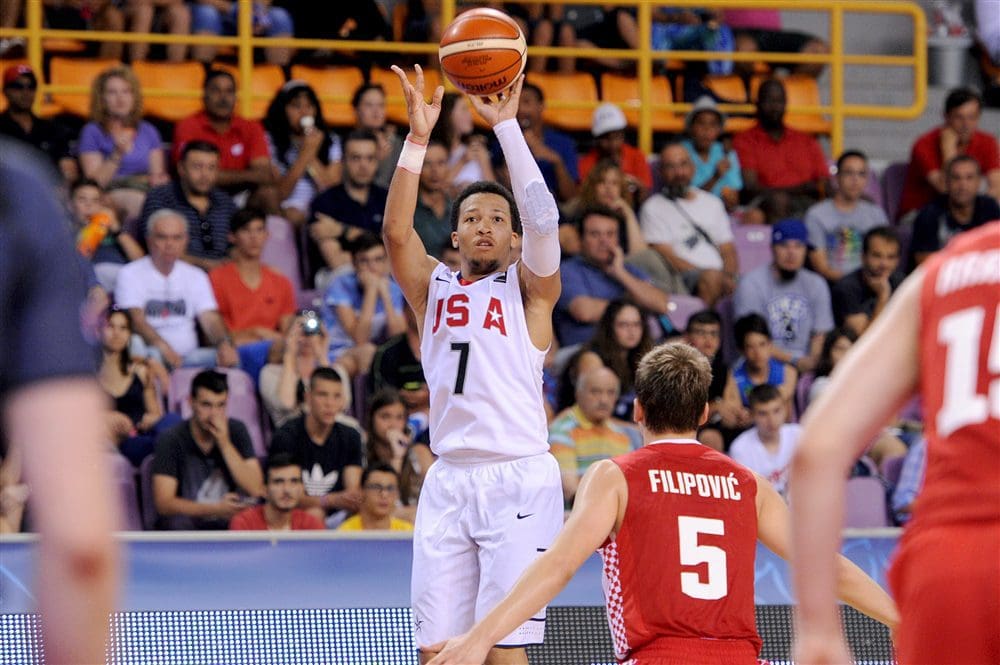 Photo Courtesy of USA Basketball
JOINS 2015 USA BASKETBALL MEN'S U19 WORLD CUP TEAM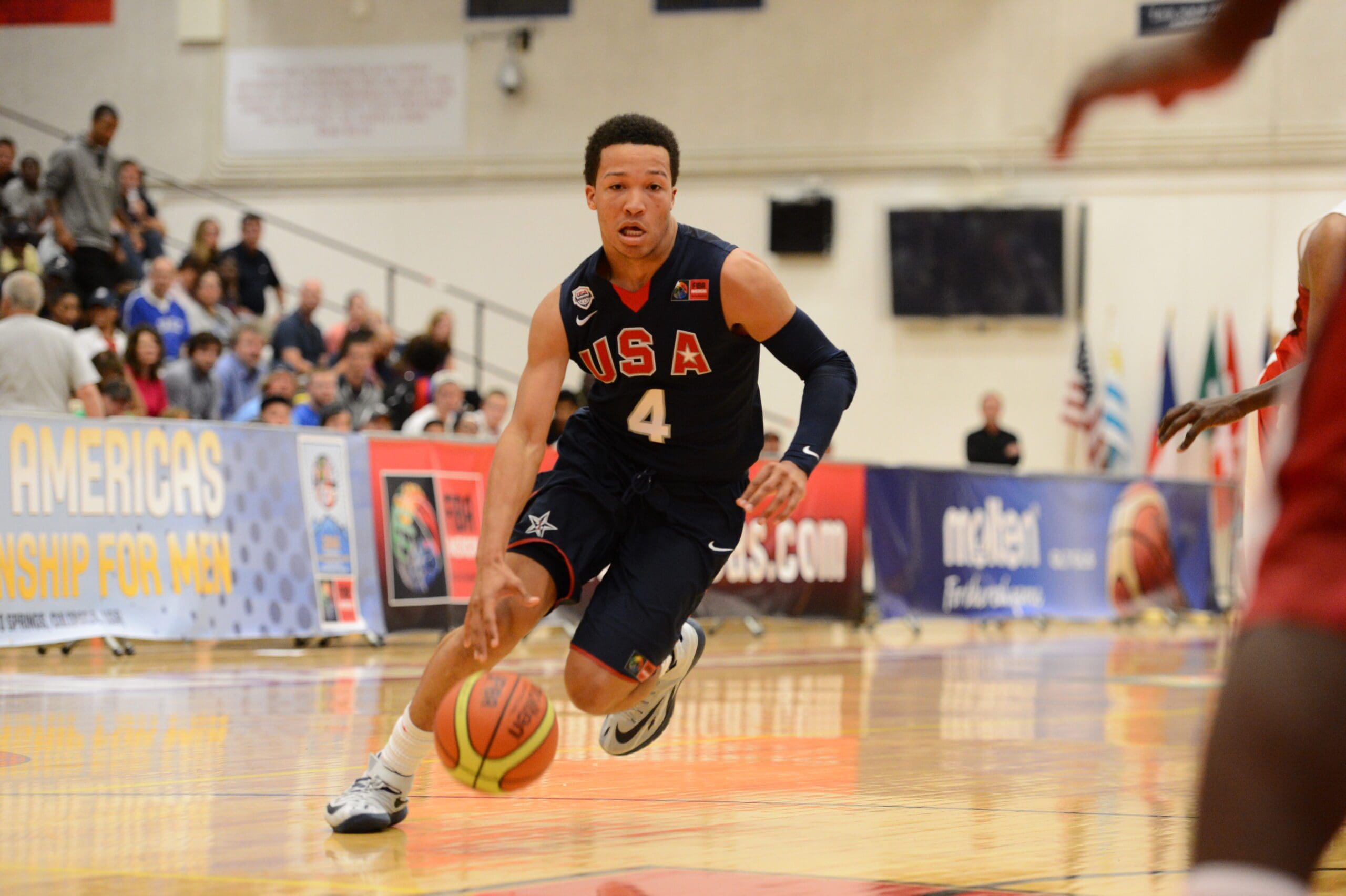 Photo Courtesy of USA Basketball
NAMED TO NIKE GLOBAL CHALLENGE USA ALL-TOURNAMENT TEAM
USA CLAIMS GOLD MEDAL IN FIBA AMERICAS UNDER-18
Photos Courtesy of Brunson Family
Photo Courtesy of USA Basketball
BREAKS USA BASKETBALL U18 SINGLE-GAME ASSIST RECORD WITH 13 ASSISTS AGAINST URUGUAY, PASSING STEPHON MARBURY'S 12 ASSISTS AGAINST BRAZIL IN 1994
BRUNSON NAMED TO USA NATIONAL TEAM
Photos Courtesy of USA Basketball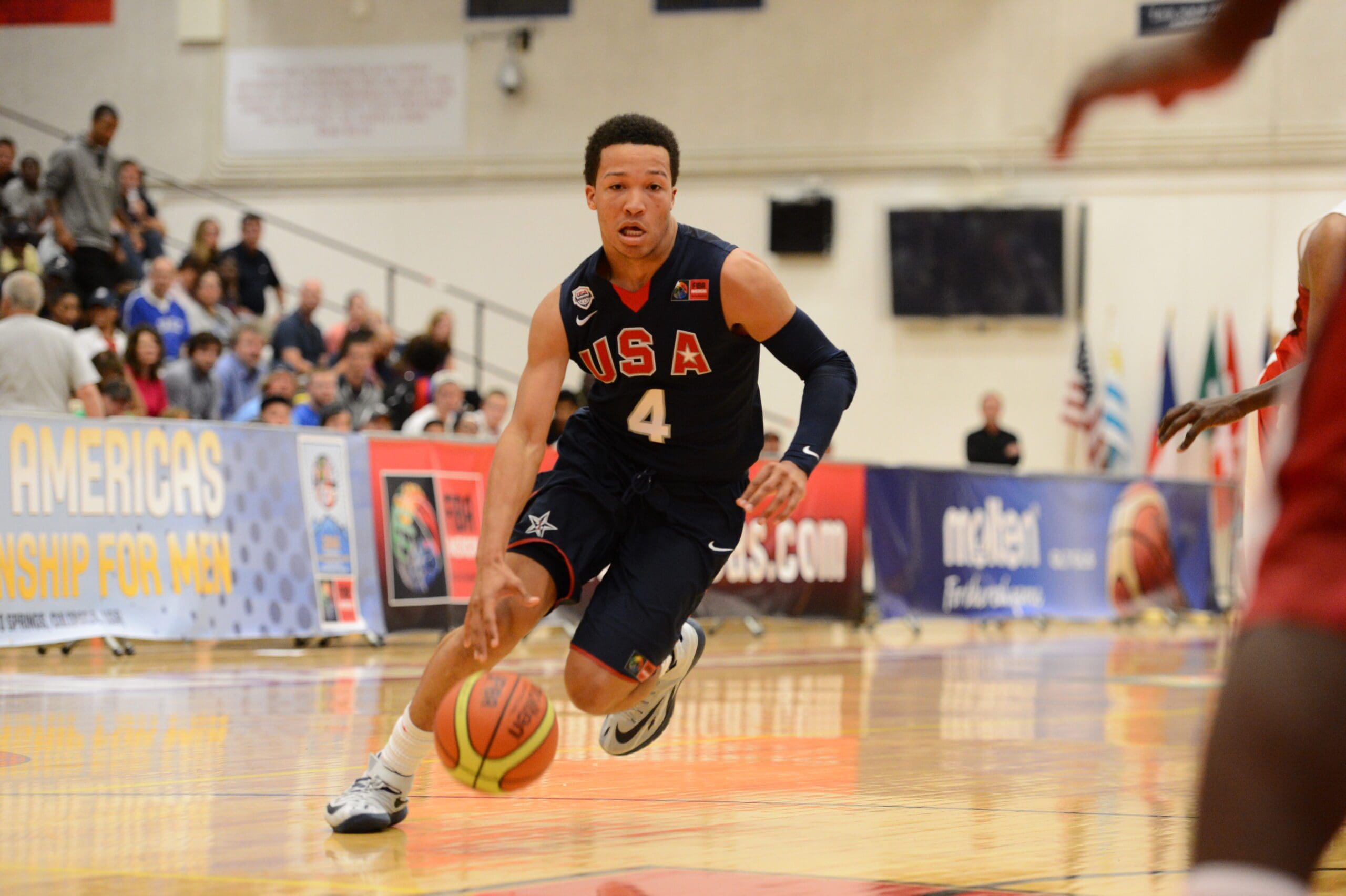 Photo Courtesy of USA Basketball
NAMED TO NIKE GLOBAL CHALLENGE USA ALL-TOURNAMENT TEAM
Photos Courtesy of Brunson Family
USA CLAIMS GOLD MEDAL IN FIBA AMERICAS UNDER-18
Photo Courtesy of USA Basketball
BREAKS USA BASKETBALL U18 SINGLE-GAME ASSIST RECORD WITH 13 ASSISTS AGAINST URUGUAY, PASSING STEPHON MARBURY'S 12 ASSISTS AGAINST BRAZIL IN 1994
Photos Courtesy of USA Basketball
BRUNSON NAMED TO USA NATIONAL TEAM